How To Use Minelab XChange 2 for EDITING - Illustrated Tutorial, page 7
2. Adjust CTX 3030 User Mode Settings on Your PC or Laptop
CTX-3030's settings can be divided into two categories: Mode Settings and Universal Settings (adjusting them in XChange 2 is covered on page 13 of this tutorial).
Mode Settings define CTX-3030's performance for a particular location (such as the homestead site, farm field, beach or park) or type of treasure hunting (such as coin shooting or relic hunting), and are saved as part of a User Mode.
NOTE: If you have hard time understanding how the Mode settings function and interact with each other, please read about them in my detailed description of the Level-1 COINS Program.
It is much easier to adjust Mode settings in the XChange 2 application than on the CTX-3030 Control Panel because all their options can be accessed through controls grouped at one location - in the lower left corner, on the User Mode Editor screen: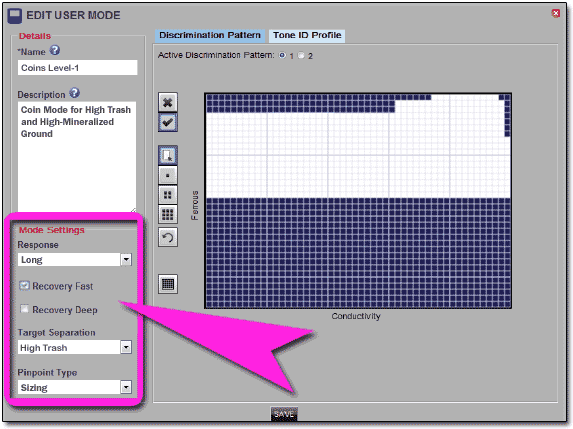 While the "Recovery Fast" and "Recovery Deep" (page 39 of the CTX-3030 User Manual) are enabled by ticking their Checkboxes,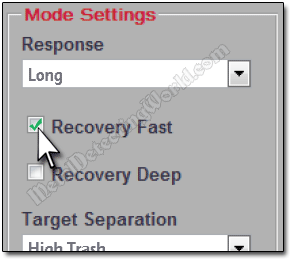 the rest of the Mode Settings can be adjusted by using their drop-down menus.
For example, if you want to change the TARGET SEPARATION setting from HIGH TRASH to FERROUS-COIN, click on a "drop-down arrow" button of the corresponding Menu ("Target Separation" Menu) to open a drop-down list with options. The TARGET SEPARATION setting has four options: LOW TRASH, HIGH TRASH, FERROUS-COIN and GROUND-COIN.
The current option's "bin" will be highlighted with blue color as shown for the HIGH TRASH option on a picture below.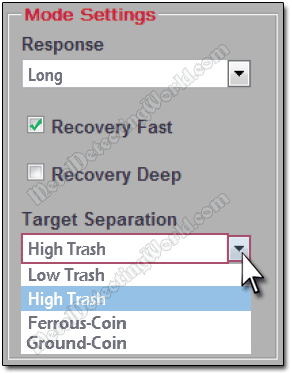 Move the cursor down onto the FERROUS-COIN option (now ITS bin will turn blue) and click on it to select this mode.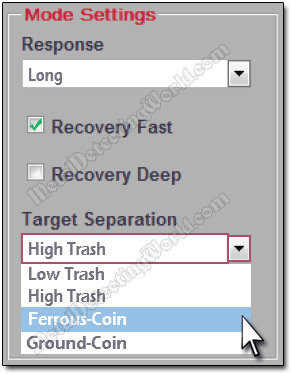 After you select a new option ("Ferrous-Coin" in this case), the menu will revert to its inactive state, displaying the selected option.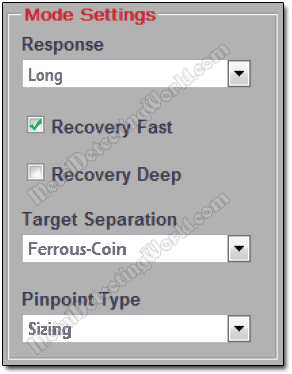 NOTE: If you implement the FERROUS-COIN mode of Target Separation, non-ferrous targets will be indicated with red signatures, and the ferrous targets' signatures will be in blue color.
Open the drop-down lists of other Mode settings to select the required options.
The "RESPONSE" menu has four options:
• Normal
• Long
• Smooth
• Pitch Hold (page 38 of the CTX-3030 User Manual)
The PINPOINT menu has two options:
• Normal
• Sizing (page 42 of the CTX-3030 User Manual)
Choose the required options and click on the SAVE button
at the User Mode Editor screen bottom.
If you do not need to edit the Tone ID Profile of this User Mode, but you need to download modified Discrimination patterns and adjusted Mode Settings to your CTX-3030, please skip to page 15 of this tutorial where all steps of the downloading procedure are described. Otherwise, continue to the next page to learn how to create and edit the Tone ID Profile (also called "Audio Setup" and "Tone ID Map") of your current User Mode.
Number of pages: < Previous | 1 | 2 | 3 | 4 | 5 | 6 | 7 | 8 | 9 | 10 | 11 | 12 | 13 | 14 | 15 | Next >