Metal Detectors I Have Used, page 6
MINELAB E-TRAC for Cache Hunting, Relic Hunting & Coin Shooting - Review & Tips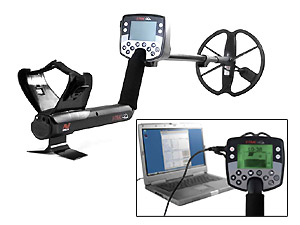 Minelab E-Trac was my primary metal detector for Cache Hunting, Coin Shooting and Relic Hunting from 2009 to 2012. Within that time period, I made a lot of valuable finds with the E-Trac. It was effective in detecting good targets partially masked by the rusted iron nails at the "searched-out" sites.
Because of the E-Trac's improved FBS technology combining the Minelab's multiple frequency BBS (Broad Band Spectrum) with a new powerful microprocessor, the E-Trac provided for greater operational depth range, higher sensitivity over a wide range of targets, less interference from electromagnetic sources and more accurate target identification than its predecessors.
When I tried the Minelab E-Trac for the first time, its incredible abilities surprised me! By using E-Trac, I unearthed more medieval coins at the spot which I had searched "to the last signal" with Explorer II just the day before! E-Trac was truly unbelievable. You can read all details in my full E-Trac Field-Test Report.
These 17th century Coins, Masked by Iron Nails, Were Unmasked by Minelab E-Trac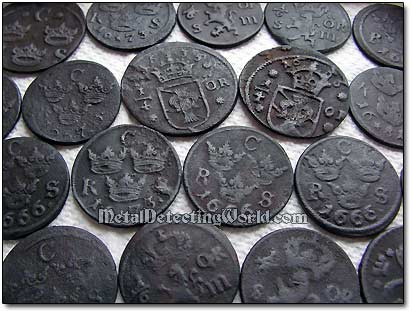 Yes, the E-Trac found many coins and non-ferrous artifacts at the sites that had been previously thought as expended. But having its limits, the E-Trac was unable to cope with new metal detecting reality - today's most hunt sites have been depleted of unmasked good targets. My E-Trac could not detect or recognize some valuable targets masked by nails and other iron objects. The E-Trac's limitations, such as low Recovery Speed, low maneuverability and dependence of Detecting Range on levels of Discrimination, were discovered only through performance of the up-to-date metal detectors that were used at the same metal detecting sites.
The Minelab FBS detectors began loosing their superiority to other brands also due to their discommoding design and lack of ergonomics. Heavy weight, poor balance and flaws in construction were major drawbacks of the FBS line's first model - Minelab XS, and they were carried over to subsequently developed models. Some slight improvements had been made to the body design over the decade, but the old concept of a heavy and cumbersome stem/handle assembly still manifested itself in the E-Trac weighing 4.8 lbs (2.2 kg).
The Minelab's Smartfind technology with its 2-Dimensional Discrimination scale, remains the only E-Trac's advantage over new models of metal detectors on the today's market. The 2-dimensional (FE-CO) Discrimination allows for rejection of unwanted targets without compromising detection of desirable targets of the same conductive properties. For example, by using the "dot-discrimination" pattern, you can reject pull-tabs and 5-cent coins while still detecting gold rings at the ocean beach.
The Minelab's Smartfind feature is a good reason to keep the E-Trac if most of your hunt sites are cluttered with modern non-ferrous and ferrous trash. The Smartfind feature was the only good reason for me to ignore my personal discomfort and keep the E-Trac to the very end.
If you would like to know how to make Minelab E-Trac semi-wireless, please visit my illustrated tutorial - "How To Make Minelab E-Trac's Operation Wireless"
You can find the Search Program settings for Minelab E-Trac - on "My Search Programs for E-Trac & CTX 3030" page.
You can find the Minelab E-Trac's Features and Specifications and read other users' reviews here.
You can find and compare Specifications, Features, Prices, Users' Reviews and Ratings - all helpful Information, for all metal detectors available on the market today at Metal Detector Reviews Main Page.
If you would like to recommend this article to everyone, please click the button:
If you would like to recommend this web page to everyone, please click the button:
Number of pages: < Previous | 1 | 2 | 3 | 4 | 5 | 6 | 7 | 8 | 9 | 10 | 11 | Next >
Minelab Explorer's Body Reinforcement | Search Coil Sealing | My Equipment Page | Useful Articles page | Home