White's XLT E-Series Settings
My Search Program for Detecting Coins and Jewelry with White's XLT Metal Detector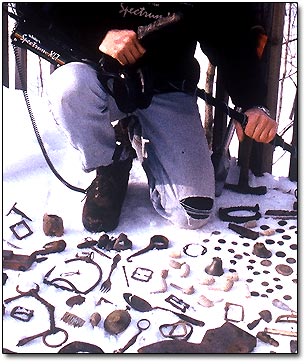 White's Spectrum XLT metal detector (detector de metal) was my second machine that I used for 7 years. This Metal Detecting Program, a combination of parameter settings, was a result of Try and Error process that continued throughout my experience with Spectrum XLT.
My goal was to create an optimal program primarily for detecting Coins and Jewelry in the North-East USA. This program enabled me to recover some remarkable relics as well.
The XLT's versatility of program parameters, 39 total, allows the user to adjust the machine to any field condition that one might encounter at different geographic locations. Here, I divided the changeable parameters into two groups for better understanding of their utilization:
Group A includes the parameters, Basic Adjustments, that I do not change every time I encounter different metal detecting conditions such as the type of soil, concentration of junk, and type of the top cultural layer.
Group B includes Pro Options that I change even a few times during the treasure hunt according to the site conditions.
Group A - Basic Adjustments:
TARGET VOLUME - 63
AUDIO THRESHOLD - 2 (for 9.5" Search Coil), 1 (for 8" Search Coil)
TONE (AUDIO FREQUENCY) - 232
AUDIO DISC. - ON
SILENT SEARCH - OFF
MIXED MODE - OFF
A.C. SENSITIVITY - 65 (for 9.5" Search Coil), 68 (for 8" Search Coil)
To read about how the Sensitivity settings affect the detector's performance, visit page 1 of my Article - How To Search Around Cellar Holes Successfully.
D.C. SENSITIVITY - 31 (for 9.5" Search Coil), 33 (for 8" Search Coil)
BACKLIGHT - Used only when necessary as it shortens the battery life fast.
VIEWING ANGLE - 25
Group B - Pro Options:
"AUDIO"
RATCHET PINPOINTING - OFF
S.A.T. SPEED - 5 (for 9.5" Search Coil), 6 (for 8" Search Coil)
TONE I.D. - ON
V.C.O. - ON
ABSOLUTE VALUE - OFF
MODULATION - OFF
"G.E.B./TRAC"
AUTOTRAC - ON
TRAC VIEW - OFF
AUTOTRAC SPEED - 10
AUTOTRAC OFFSET - +0
TRAC INHIBIT - ON
COARSE G.E.B. - Auto
FINE G.E.B. - Auto
"DISCRIMINATION"
DISC. EDIT
reject: -95 to -20, +95
accept: -20 to +94
BLOCK EDIT - same
LEARN ACCEPT - OFF
LEARN REJECT - OFF
RECOVERY SPEED - 20 (for 9.5" Search Coil), 17 (for 8" Search Coil)
BOTTLECAP REJECT - 1
"DISPLAY"
VISUAL DISC. - ON
ICONS - ON
V.D.I. SENSITIVITY - 84 (for 9.5" Search Coil), 85 (for 8" Search Coil)
D.C. PHASE - ON
GRAPH AVERAGING - ON
GRAPH ACCUMULATING - ON
FADE RATE - 9
"SIGNAL"
TRANSMIT BOOST - ON
TRANSMIT FREQUENCY - 4
PREAMP GAIN - 5 (for 9.5" Search Coil), 6 (for 8" Search Coil)
NOTES: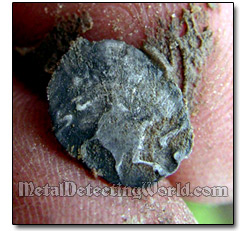 If you wish to maximize the detector's operational depth range and maintain detector's stability, use AC Sensitivity, V.D.I. Sensitivity, and Preamp Gain adjustments. Preamp Gain has a more dramatic adjustment for detecting range than AC Sensitivity as Preamp Gain is positioned at the front of the circuitry prior to the signal being analyzed by the processor.
AC Sensitivity is positioned at the tail end of the circuitry, after the signal has been looked at by the processor. V.D.I. Sensitivity is somewhere in the middle. When increasing AC Sensitivity and Preamp Gain, V.D.I. Sensitivity if not also increased, acts as a bottle neck promoting instability. If only increases in one of these options is possible, Preamp Gain should be the first choice. The Air and Ground Balance should be completed each time after these adjustments.
When turned ON, Trac Inhibit prevents Auto Trac from tracking on corrosion associated with most metals. Turning OFF Trac Inhibit can be used for detecting gold coins, rings, or nuggets as gold does not corrode. Maximum tracking is also desired in extremely bad ground and can be achieved by turning Trac Inhibit OFF.
If you need to put Spectrum XLT into All Metal Mode, turn the Audio Discrimination OFF. Otherwise, keep this feature ON as there are usually many pieces of nails and scrap metals in the ground around dwellings or cellar holes.
This Tiny Silver Hammered Coin Was Easily Found with My XLT Program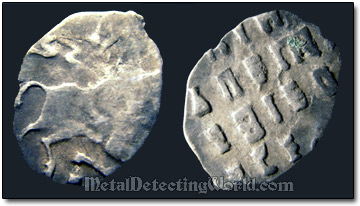 Of course, with my program, the White's XLT might perform differently when operated under different detecting conditions (different soil's mineral content, junk concentration, etc.), but so far I have received only a good feedback on this program from the XLT users around the world. Here is the most recent example - an e-mail from a detectorist in the UK, that came in on Saturday, October 17, 2009:
"Hi Sergei!
My name is Steven, I live in Reading in Berkshire. I've been using an XLT spectrum e-series for 6 years. I've mostly been using the programs that came with the machine. 2 days ago I came across your site, thought your program looked interesting, grabbed my machine and tapped it in exactly. Today I went on our weekly dig with our group on a couple of good sites around Uffington, Wiltshire. Your program performed excellently, it ignored all the usual iron c**p! All in all, it was a good day: 4 silver hammered coins, circa 10th to 14th century, 1 Roman bronze coin (4th century), a nice silver cufflink (17th century) and a few lead tokens of medieval farming currency.
So just mailing you to say thank you for putting this program on the net.
Cheers, Steve."
Steven's Coin Finds

Happy Hunting!
If you would like to compare Specifications, Features, Prices, Users' Reviews and Ratings for all White's or any other metal detectors available on the market today, visit Metal Detector Reviews Main Page.
If you would like to recommend this article to everyone, please click the button:
My Detailed Review on White's XLT | Metal Detector Reviews | Useful Articles page | Useful Tips | Home