Metal Detectors I Have Used, page 2
GARRETT GRAND MASTER HUNTER CX-II - My Short Review
Garrett Grand Master Hunter CX-II was my first machine that allowed me to learn all basics of metal detecting fast. Especially I should mention this machine's ability in producing a descriptive sound pattern for each particular target, i.e. the individual sound end-pattern of a target's signal would allow me to determine the target's shape. The machine could be also used for Cache Hunting as it could be easily transformed into a 2-Box Deep Seeker by attaching two large rectangular search coils on each end of the handle assembly.
Garrett Grand Master Hunter CX-II

Back in 1993, the Internet did not exist yet, and there were no books on treasure hunting readily available at any library. One could get little bits of information through subscribed hobby magazines or from someone who happened to use a metal detector (detector de metal) occasionally for fun. The only way to attain the Know-How in metal detecting was through one's own "hands-on" experience, creative thinking and experimenting.
In one year of painful learning through trial and error, I finally developed my own search style and basic treasure hunting skills. All thanks go to Garrett Grand Master Hunter CX-II! I have to mention the importance of creating and using my own Test Garden which certainly sped up my learning process.
Later I taught my close friends Rachael and David how to use the Garrett CX-II so that they could join me in coin shooting and have metal detecting fun. Both of them quickly mastered the Garrett and did very well in detecting coins.
Barber Quarters Found with Garrett Grand Master Hunter CX-II in Upstate New York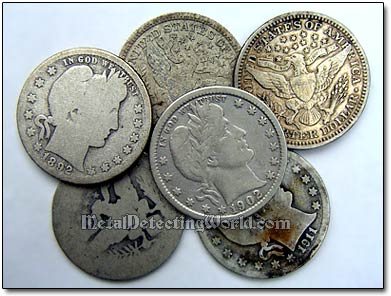 Rachael with Garret CX-II in Catskill Mountains, Season of 1996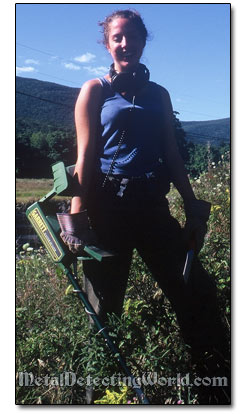 Garrett Grand Master Hunter CX-II was a simple and old-fashioned gage-metered machine. Its cumbersome design was the only flaw I could name back then. Of course, I cannot imagine metal detecting with this machine now, but I give this detector my respect for being a fine treasure hunting instrument in its time 20 years ago.
You can find Features and Specifications of Garrett Grand Master Hunter CX-II and read other users' reviews here.
Number of pages: < Previous | 1 | 2 | 3 | 4 | 5 | 6 | 7 | 8 | 9 | 10 | 11 | Next >
My Equipment Page | Metal Detector Reviews Worldwide | Useful Articles page | Secrets for Beginners | Home