XP Deus

- Metal Detector I Currently Use, page 10

The XP Deus v2.0, v3.0 & v3.2 is the leading-edge metal detector from the XP Metal Detectors.

XP Deus is A 5-Star Metal Detector

: My Review & Useful Tips

by Sergei Upstateny,

After having used the Minelab FBS metal detectors for 12 years, I was very skeptical about the XP Metal Detectors manufacturer's latest model - Deus, for its futuristic looks and unusual innovations incorporated into a metal detector of this class.

But when I tried the wireless Deus metal detector, version 2.0, at the "searched-out" site for the first time, my first impression was "Wow! It can't be real."

In the beginning, I used one of the Deus' factory-preset search programs - "Deus Fast", as a basis for creating my own search program for coin shooting in Eastern Europe.

Right away I began finding tiny hammered coins of the "Wire Money" type, described in Detecting Hammered Coins section, and small bronze artifacts at the metal detecting sites which had been previously "cleaned" of all non-ferrous signals with the multi-frequency metal detectors first, and then with the XP GoldMaxx Power detectors - the high frequency machines as well.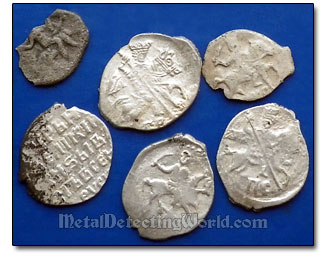 Silver Hammered Coins Found with XP Deus
at "Hunted-Out" Site
Prior to using the Deus, I was familiar with audio responses to various targets detected by the GoldMaxx Power which is a prototype of the Deus. But I was pleasantly surprised by how much the Deus differed from the GMP.
The Deus' telescopic stem had none of the GMP's flaws! Absolutely wireless operation made target recovery a "piece of cake". In fact, absence of wires not only speeds up reception of the Target ID info by a discriminate circuit, but also allows for increase in operational detecting range by 1.5cm-2cm.
The Deus' ultra-light weight (885 g or 1.9 Lbs without a remote control affixed to a stem) allows for high maneuverability of a search coil - this is essential for isolating responses to good targets from bad signals.
And in addition to all GMP's features, the Deus had acquired a few advanced settings that make a big difference. One of them is a truly revolutionary feature - the programmable Tonal Discrimination: now one can adjust sizes and tone pitches of up to four Conductivity Ranges (also called "Tonal Zones") of certain conductivities. These Tonal Zones can function as Rejecting or Accepting ranges, and a user is able to either reject or accept targets by sound without being annoyed with audio responses to undesired targets. This is why it is not an accident that the Deus' four tonal modes - 2-tone, 3-tone, 4-tone and Pitch, are placed into "Expert" submenu of the Discrimination feature (more details are given in my article on XP Deus Tonal Discrimination).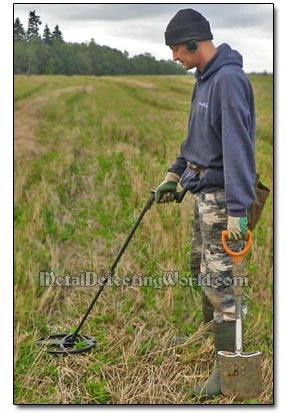 Conventional Discrimination and Tonal Discrimination are used in tandem. What makes it so advantageous is that with proper arrangement of tonal zones on the Conductivity/Discrimination scale, one can implement just a miniscule amount of Conventional Discrimination without compromising one's hearing comfort. And "minimum Conventional Discrimination" means "maximum Detection Depth Range"! (not to be confused with detector's DEPTH POTENTIAL ability - see details in my articles: "Metal Detector's Depth Penetration & What Affects It" and "Quiet Operation of A Metal Detector vs. Detecting More Deep Targets")
Another important feature is Reactivity which allows me to resize the width of the search coil's electromagnetic-field "blade" according to types of silver hammered coins I seek and effects of mineralization present at any particular hunt site. High sweep speed (speed of a search coil's motion) is another benefit of using high Reactivity; however, the high sweep speed MUST be avoided if small hammered coins or "normal' coins are sought. The Deus' key programmable settings and modes are explained in my article: "Deus XPlained".
The only drawback the Deus inherited from its predecessor - the GoldMaxx Power, is the same bolt/nut search coil assebly which is hard to tighten without a set of pliers, and easy to break if excessive force is used to tighten it.
If you broke the bolt and do not have an extra one, and/or you do not want to get irritated with unhandy bolts any more, you can get better plastic bolts with nuts at the Minelab dealer shop if it is available in your area, or get them from the internet store that offers all kinds of metal detector's accessories.
The bolt and nut assembly for the Minelab X-Terra metal detectors have the same diameter (5 mm) but the bolt's head is larger and easier to tighten than the XP bolt's head. One bolt with a nut costs around $2.00.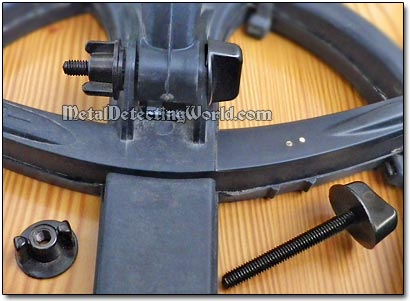 X-Terra's Bolt and Nut Perfectly Fit XP Deus Search Coil's Assembly
One of the greatest benefits of the Deus's concept of wireless operation is the wireless headphones' ability to function independently from the remote control. This means that one can use either the remote control or the headphones alone in case the battery of any of these devices is drained during detecting session. But that is not all to it! The exciting thing about such a revolutionary electronic design is that one can make TWO Deuses OUT OF ONE using the S-shaped stem of the GoldMaxx Power and a second search coil for the Deus! While the remote control is connected to the first coil, the headphones can be switched to the second search coil, and now you have two independently operating metal detectors! More details are given in my article "How To Make Two Deuses Out Of One" ("double up" the Deus).
As soon as I purchased a second 9-inch search coil, I "doubled up" my Deus using the GoldMaxx Power's stem. Since then, my girlfriend and I (and my mom sometimes) have been successfully using two Deuses simultaneously operating on different search programs, and our former "working horses" had honorably retired. The Deus allowed us to "step up" to the next level of metal detecting excitement, and we do not see any reason to "climb" back down.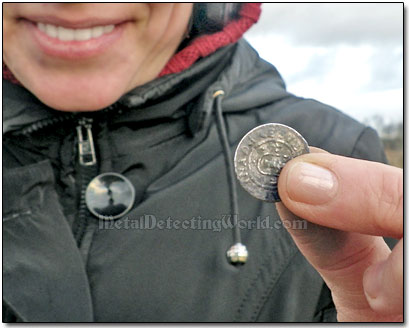 Except for the bolt/nut assembly, everything else in design of the Deus and its accessories is well thought out. For example, a simple accessory such as an Emergency Field Battery Charger for XP Deus is just a state-of-the-art device. I hope the XP engineers soon begin expanding the XP products' spectrum and come up with a leading-edge XP pinpointer (it could be named "XPointer" per se :). I believe they could do that as they have already proved that they can think "out-of-box" in engineering creativity. And the Deus metal detector has been a success. (continued on next page...)
Find me on Google+ and my Google+ Page: "Metal Detecting World"