XP Deus Lithium Polymer (LiPo) Battery Chargers
2. XP Deus Emergency Field Charger/Flashlight/Battery Charge Indicator
Being very convenient and sufficient, the XP Deus wall charger sure eliminates necessary charging of eight NiMH rechargeable batteries or battery packs before each hunt as well as carrying the weight of the back-up sets of batteries during hikes to the remote hunt sites. However, it is too early to set aside the old good NiMH batteries as they still can be very useful not only for powering the
headlamps
,
pinpointers
and GPS units, but also for charging the in-built LiPo batteries of the Deus' three vital components - a search coil, headphones and a remote control!
The XP engineers designed an Emergency Field Charger (retail price: £12.95 ($16.95)) which utilizes one AA battery for charging each of the XP Deus' three LiPo batteries in the field: 30-minute charge time provides extra three hours, and 1-hour charge time provides 5 hours of battery life! Take a dozen of fully charged NiMH batteries with you on your extended outing at the hard-to-access area, and you will have many extra hours of treasure hunting time away from any electric power source including your vehicle. Now the XP Metal Detectors manufacturer offers another useful accessory - a Solar Charger, that is the "must have" for those Deus users who love to explore remote metal detecting sites.
The XP Emergency Field Charger comes with a mini USB cable and a 5-LED torch (head attachment with a 1/8" plug). Unlike the XP Deus' wall charger, the emergency LiPo battery charger can only charge one battery at a time; hence it is best to have three emergency field chargers so that you could simultaneously charge all three LiPo batteries in the field.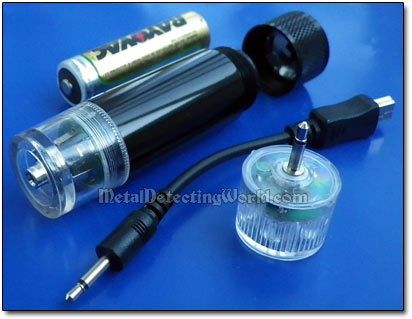 XP Deus Emergency Field Charger with Unscrewed Battery Cap,
Mini USB Cable, Torch Attachment and NiMH Rechargeable Battery
With the torch conversion, the emergency charger can also be used not only as an emergency flashlight, but also as a visual indicator for the battery's strength without using a Voltmeter - a voltage measuring device. To switch the emergency flashlight on, you simply turn the battery cap clockwise.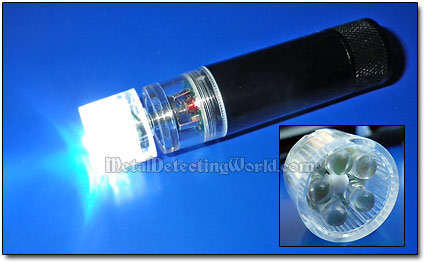 XP Deus Emergency Field Charger/Flash Light/Battery Charge Indicator
Of course, on today's market, there are various emergency USB chargers, including solar chargers like the above-mentioned one, with higher rated capacity than of the XP Deus' emergency field charger, but I like using this miniature charging device for its multi-functionality, and when the sunlight is not available. Do not forget to equip yourself with the XP Deus Car Charger (retail price: £18.95 ($24.95)) as well!
It is also practical to have an extra Charger Clip (retail price: £12.95 ($16.95)) for the Deus search coil if you plan to charge it during your metal detecting session in the field. The search coil clip is an essential item because one can not charge the search coil battery without it. And if you take the clip in the fields and accidentally lose it or break it, you will have a major problem.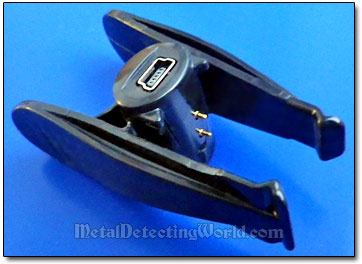 XP Deus' Search Coil Charger Clip
If you would like to point out any errors, ask me a question, or express your opinion, please do not hesitate to send me a message!
If you would like to follow me on Twitter, please press a button:
You may want to visit my other pages with helpful info on the XP Deus metal detector and its accessories:
Find me on Google+ and my Google+ Page: "Metal Detecting World"