Since the previous page was published, not only the battery chargers have become more advanced, but also the metal detector manufacturers have started utilizing new technology - miniature Lithium-Polymer (LiPo) batteries, which take little space, can be recharged quickly, do not have "memory", and last longer than batteries of other types.
For example, the XP Metal Detectors' latest metal detector Deus utilizes three built-in LiPo batteries: one in a remote control, one in headphones, and one in the detector's search coil.
The XP Deus' wall battery charger (retail price: £34.95 ($45.95)) allows to charge all three built-in batteries simultaneously (as shown on a picture above). For that procedure, the wall charger's USB cable (retail price: £14.95 ($19.00)) is equipped with three mini-B plugs.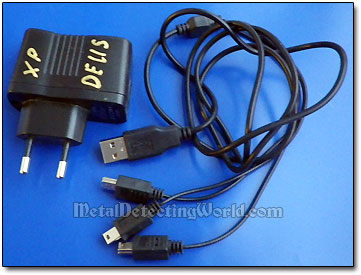 XP Deus Charger for Lithium Polymer Batteries Built In
Headphones, Remote Control and Search Coil
XP Deus Wall Battery Charger Specifications:
INPUT: AC 100-240V, 50/60Hz, 0.15A;
OUTPUT: 5.0V, 1000mA;
Charging time is only three hours, and the batteries last from 19 hours for a search coil to 27 hours for either the XP Deus' headphones or remote control.