Useful Gadgets & Tools for Metal Detecting
Non-Electronic Gadgets: Barometric Altimeter, Compass, and Map Measurer
Do not expect to see any of the top technology gadgets such as GPS unit, electronic compass, or barometric altimeter with elevation and graphic profiles on this page. I guess one could call me an "old school" as I have developed my treasure hunting, searching, and orienteering skills without modern "toys."
The only barometric altimeter that I have used for years is a simple non-electronic unit made in Germany. It is pretty accurate and easy to use. The only thing it requires to do before leaving your house for the wilderness is to set it on a known altitude of your house location - it can be obtained from a topographical map. It is sort of a calibration to the ambient air pressure.
Barometric Altimeter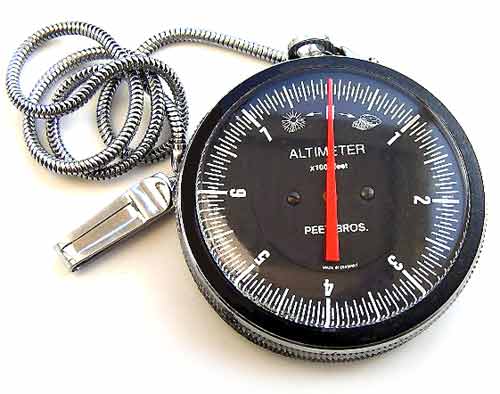 This primitive device helped me many times in locating ghost villages that had been sought by many for years. I love this altimeter unconditionally also because it does not need any batteries or maintainance, and it works no matter what. Thanks to treasure hunter Tim from Kingston, NY, who gave me such a cool present back in 1994!
Of course, I use a GPS unit - Garmin GPSmap 62s, for big and/or complicated treasure hunting projects. The up-to-date GPS is essential for locating lost medieval villages, settlements and other "fruitful" places of former human activity that have been hidden in remote areas. Although my GPS unit has all the necessary features such as altimeter, compass, and distance measurer, besides other amazing things, but sometimes I use my old good barometric altimeter not to get too spoiled. :)
I always carry two compasses on me while doing footwork in the woods: a smaller one can be clipped on the collar of my jacket for quick reference, another one allows me to use it with maps and has a small magnifying glass which was used numerous times for making a camp-fire by means of direct sunlight. Yes, yes, yes, my lighter and matches were accidently left in the car parked a few miles away.
Compasses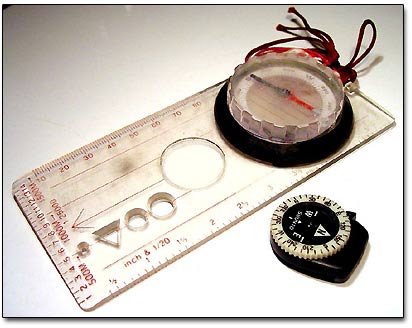 Another useful thing I would like to include here is a Map Measurer. Basically it measures distances on paper maps and is very useful for Map Research & Analysis, planning the routes, and calculate distances to the hunt sites in remote areas. It is also combined with a compass.
Map Measurer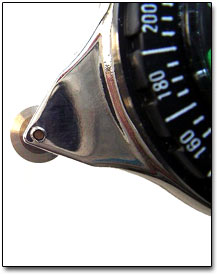 If you would like to recommend this article to everyone, please click the button:
My Equipment Page | Metal Detector Reviews Worldwide | Useful Articles page | Secrets for Beginners | Home