Digging Shovels and Trowels for Metal Detecting & Treasure Hunting
Digging Shovels: Usage & Specifications
For treasure hunting in the US, I use two types of relic digging shovels manufactured by George Lesche - Builder of the Highest Quality Digging Tools For Metal Detecting, Camping, Landscape, Nursery, Gardening, Prospecting, Archaeology, Rescue, and Reforestation.
1. Lesche "Relic Hunter Model 38"

LESCHE "RELIC HUNTER MODEL 38" SPECIFICATIONS:
Steel: Aircraft quality 4130 chromemoly steel, heat-treated and tempered
Total Length: 38 inches
Construction: all-steel
Blade: 5 x 11 inches, saw-toothed
Price: $60
Having a Lightweight long D-Handle with Power Grip, a foot step for power digging, teeth for cutting roots, a durable steel design, this shovel has proved to be the best digging tool for the most difficult digging situations and the toughest terrain - will make quick work of getting through webs of roots and hardened soil.
2. Lesche Sampson Relic Shovel 28"

LESCHE SAMPSON SHOVEL SPECIFICATIONS:
Steel: Aircraft quality 4130 steel, heat treated and tempered
Total Length: 28 inches
Construction: all-steel
Blade: 4 inches x 8 inches
Price: $25
Having a shorter T-Handle, a foot-step, a durable steel design, this shovel has proved to be a perfect digging tool for treasure hunting in the forested areas with the soil of high rock content, or extracting the targets from under the thick tree roots.
While treasure hunting overseas, I use only a "Fiskars" shovel, a short model, that easily fits into my backpack along with my metal detector and gear. Patented in Finland and manufactured in Russia, "Fiskars" shovels easily meet any treasure hunter's demands.
Fiskars Shovel for Metal Detecting, a Short Model

FISKARS SHORT SHOVEL SPECIFICATIONS:
Steel: Heat treated and tempered
Total Length: 0.8 m or 33 inches
Construction: steel blade and stem, plastic "D" Handle
Blade: 15 inches x 8 inches
Price: $15
Now Fiskars manufactures a line of shovels for treasure hunting, including various telescopic designs, but I prefer digging with a short model because of its lighter weight, compact design, and no lesser effectiveness.
This "Fiskars" Shovel Has Served Me for Five Years without Failure

Telescopic Fiskars shovels are a little longer and preferred by those who likes to dig up the targets while standing and without putting a metal detector down. But I think that such a technique takes more time to recover targets since one still has to sit down or bend down to retrieve dug targets.
Recovering Targets with Telescopic "Fiskars" Shovel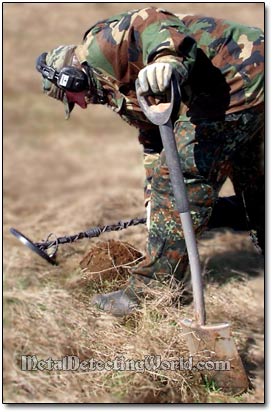 Due to their low cost, ergonomic design, and amazing durability, the Fiskars shovels became the most popular digging tools among treasure hunters across Europe. The shovel's design and high quality of steel enable a treasure hunter to use his/her full weight and good leverage.
Trowels
I use the trowels on very rare occasions such as searching for a freshly lost item on the "manicured" lawn in front of the house, or while looking for seeded tokens and coins during the Competition Hunt. With this tool, it is easy to use a rapid technique of slicing a semicircle to retrieve a less shallow target without leaving a mess.
The Most Practical Trowel for Competition Hunts

This trowel can retrieve small targets from crevices and other hard-to-get-to spots

These Non-metallic trowels would allow a metaldetectorist to check the dirt on the trowel blade for a signal without dumping the dirt on the ground - that would save time and effort, by moving the trowel in front of the search coil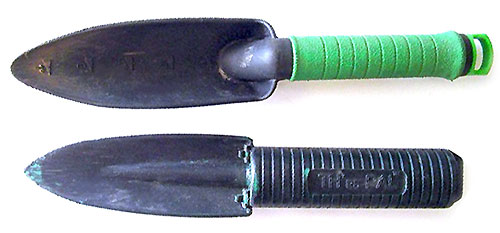 If you would like to recommend this article to everyone, please click the button:
You can find and compare Specifications, Features, Prices, Users' Reviews and Ratings - all helpful Information, for digging tools designed for metal detecting at Treasure Hunting Shovel Reviews Page.
My Equipment Page | Metal Detector Reviews Worldwide | Useful Articles page | Secrets for Beginners | Home