Yes, you can double up your wireless XP Deus if you also own either the XP GMaxx or GoldMaxx Power metal detector, and you have an additional search coil for the Deus! The Deus' wireless headphones - an ultra-miniature "control box", can function independently from the remote control and, therefore, can be switched to the stock search coil while the remote control is connected to the additional coil. Now you can have two 'control boxes', each one being wirelessly connected to its own search coil - two independently operating metal detectors!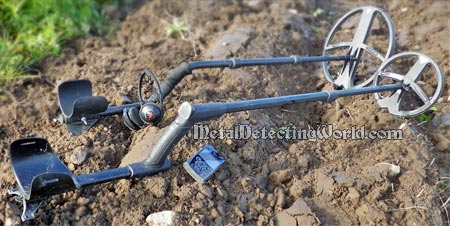 Two XP Deus Metal Detectors Made Out of One!
If you are going to use the GMP's shaft, you obviously need to remove a control box, a search coil and a front mount bracket (XP-100 accessory allows to mount the control box on the shaft in front of the handle) off the GMP's S-shaped stem.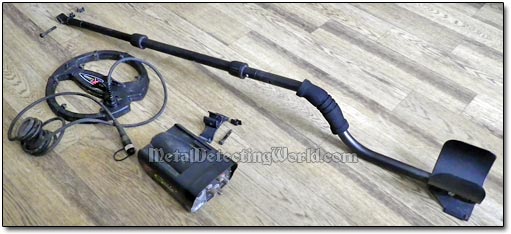 The Deus' screw kit - a bolt, a wing nut, a washer and a spacing washer, for the search coil assembly is identical to the GMP's. So you simply attach the Deus' coil to the GMP's lower shaft (the fiberglass tube) the same way as the GMP's coil is attached: the single rubber washer is inserted into a left opening of the shaft's plastic end, and the nylon bolt is screwed through the hole also from the left, lastly the spacing washer and wing nut are installed from the right side.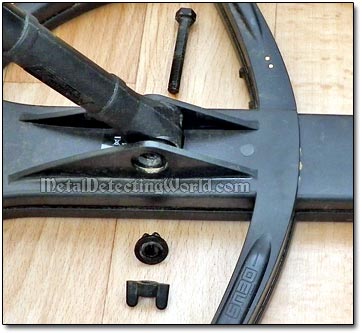 Unhandy Bolt and Nut Fastening of XP Deus
Instead of using the XP's unhandy bolt and nut for the search coil assembly, I recommend to use a bolt and nut of the Minelab X-Terra. The X-Terra's bolt has the same diameter of 5 mm, but the bolt's head is larger and easier to grip and tighten, especially when wearing gloves in the field during metal detecting, than the XP bolt's head. You can buy the X-Terra's bolt with a nut for around $2.00 at the Minelab dealer's shop, or order online.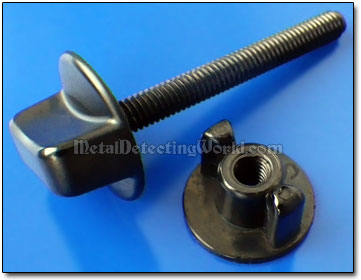 X-Terra's Bolt and Nut Can Perfectly Fit Into XP Search Coil