How To Use Minelab XChange 2 for EDITING - Illustrated Tutorial, page 4
Edit Discrimination Patterns with USER MODE EDITOR
10) Click on the Edit Button

located both in the upper right corner of the bin (shown on previous page) and the "Collection Controls" bar to open the User Mode editor screen:
User Mode Editor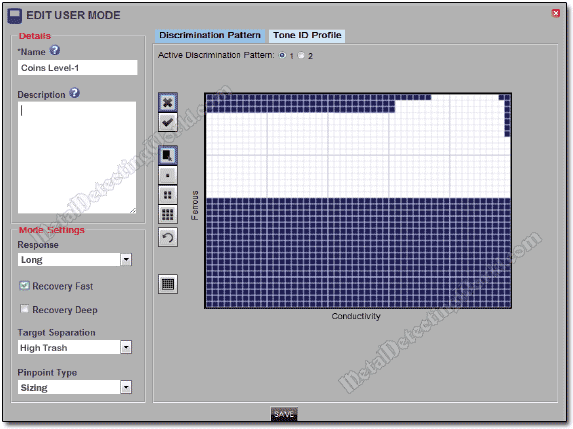 The User Mode Editor allows you to modify all components of the User Mode. Now you can easily create and edit its two Discrimination patterns, change the Tone ID Profile (also called 'Audio Setup' or 'Tone ID Map') - described on page 8, adjust the program settings - described on page 7, and create a new User Mode (or as many as you wish) - described in Step 7-1 on page 3.
11) Type a short description of this User Mode in a Description window so that you would not have hard time remembering what this mode is all about when you see it among many other User Modes in the Item List of the 'SAMPLES' folder later on (your description will appear in the Mode's Summary - a rectangular bin).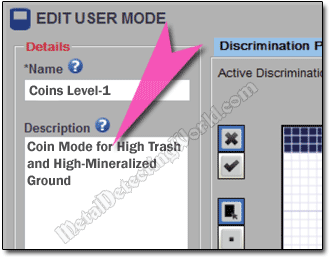 12) Select the Discrimination Pattern tab to view the current pattern. Upon opening, the User Mode Editor shows a Discrimination pattern as indicated by the "Discrimination Pattern" tab highlighted in blue color: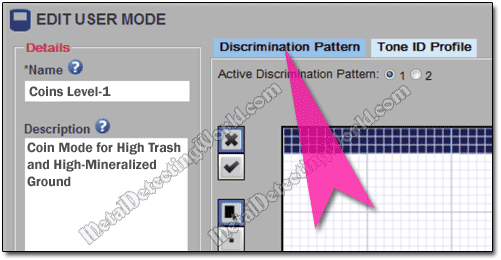 Number of pages: < Previous | 1 | 2 | 3 | 4 | 5 | 6 | 7 | 8 | 9 | 10 | 11 | 12 | 13 | 14 | 15 | Next >