Types of Metal Detecting Activities, page 39
Meteorite Metal Detecting: Accessories & Equipment Required for Meteorite Hunting
• Headphones are required for maximum sensitivity and depth.

• Quality Strong Magnet - for quick identification of meteorites in the field. However, one must be very careful with strong magnets because they will damage credit cards, cell phones, computers, and other electronic equipment. Never carry a magnet near your wallet or in your pocket.
• Rock Hammer - for digging or chipping a specimen

• Shovel - its size and design depend on a type of terrain you hunt

• Sturdy Gloves - to protect your hands from abrasions and accidental cuts

• Paint Brush - for dust and dirt removal off the meteorite surface

• 10x Magnifying Glass - to see and magnify small details like chondrules and bits of fusion crust

• Diamond File - for grinding a tiny spot on meteorite's surface to check for metal or chondrules

• Specimen Bags - zip-lock type is the most practical

• Camera - for photographing both your finds and the area where you found them

• 1inch/1cm Scale - it is used to give size when taking meteorite photos

• Notebook and Pencil - for recording details of your finds

• GPS unit - for pinpointing the exact locations of registered meteorite finds and recording locations of your finds for future outings

• Pocket Scale - for weighing multiple finds

• Headlamp is good to have when your daylight meteorite hunting is likely to continue into the night hours.

• Measuring Tape is useful in many ways

• A reliable and powerful 4x4 vehicle is sometimes a "must" to get to the remote and less accessible areas.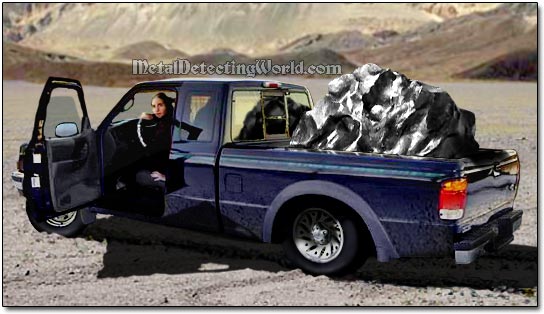 Happy Meteorite Hunting!
If you would like to read in details about the types of meteorites, their conductivities, a method for discerning meteorites from other rocks by using a metal detector, and other tips for meteorite hunting, you might want to visit my article on Classification, Conductivities & Identification of Meteorites.
Number of pages: < Previous | 1 | 2 | 3 | 4 | 5 | 6 | 7 | 8 | 9 | 10 | 11 | 12 | 13 | 14 | 15 |

| 16 | 17 | 18 | 19 | 20 | 21 | 22 | 23 | 24 | 25 | 26 | 27 | 28 | 29 | 30 | 31 | 32 | 33 | 34 | 35 | 36 | 37 | 38 | 39 |
Types of Metal Detecting Activities | Secrets for Beginners | Useful Articles on Metal Detecting | MetalDetectingWorld Home