Types of Metal Detecting Activities, page 27
SHIPWRECK DIVING & METAL DETECTING:
Research Ship's Name, History, Ownership, Cargo Type Through Various Sources
(...CONTINUED from previous page)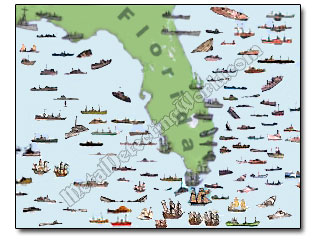 Most successful treasure hunters start the process with a lot of thorough research. The starting phase of research includes finding out who has sailed across the area of search and why, what shipwrecks occurred in the area, what maritime battles (if any) took place in the area, and whether the waters had a history of pirating in the past.
Then obtaining the sunken ship's name and approximate date of her sinking are the next steps of the research project. The ship's name, for example, could be obtained from the local divers who have found the ship's bell or capstan cover.
Sport and recreational divers can also provide you with valuable information on a shipwreck such as depth, condition, layout, aquatic life, types of artifacts and currents. Now your objective is to trace the ship's history, ownership, type of cargo that was transported at the time of sinking, etc.
The sources of information available to the shipwreck diver may include the knowledge of local fisherman and divers, articles in old newspapers (can be obtained on microfiche at libraries) and in diving or fishing magazines, Navy and Coast Guard archives, marine museums, well researched books with invaluable information (available at local libraries or through dive shops), National Archives in Washington, D.C. (inquiries can be made by mail), and primary source material - original shipping logs, available in the museums or archives located in the countries of origin.
You can also get a lot of useful information such as where ships may have gone down, what the conditions may have been and even the currents in the area if you do your research online. On the internet, there are web sites from which you can download wreck location's GPS coordinates and LORAN coordinate list for coastal states.
Any form of research can narrow the search area down and save you lots of time and effort. Here is a list of official places where information on shipwrecks can be obtained:
USA

Library of Congress
Geography and Map Division
Washington, DC20540

Mariners Museum Library
Newport News, VI23606

Maritime Administration
Division of Reserve Fleet
Fleet Disposal Branch
Department of Commerce Building
Washington DC 20230

National Archives and Records Service
Attention: NCRD
8th and Pennsylvania Ave, MW
General Administration
Washington DC 20408

National Maritime Museum
Porter Shaw Library
Foot of Polk Street
San Francisco, CA94109

National Ocean Service
Hydrographic Surveys Branch
6001 Executive Boulevard
Rockville, MD20852

Naval Historical Center (SH)
Building 220-2
Washington Navy Yard
Washington, DC20374

Peabody Museum of Salem
Phillips Library
East India Square
Salem, MA 01970

Philadelphia Maritime Museum Library
321 Chestnut Street
Philadelphia, PA19106

Smithsonian Institution
Museum of American History
Washington, DC20560

Steamship Historical Society of America
University of Baltimore Library
1420 Maryland Ave
Baltimore, MD

South Street Seaport Museum
207 Front Street
New York, NY 10038

Texas Antiquities Committee
Box 12276
Capitol Station
Austin, TX 78711

GREAT LAKES:

Burton Historical Collection
Detroit Public Library
5201 Woodward Ave
Detroit, MI 48202

Dossin Great Lakes Museum
Great Lakes Maritime Institute
Belle Isle
Detroit, MI 48207

Great Lakes Charts
630 Federal Building
U.S. Courthouse
Detroit MI 48226

Great Lakes Historical Society
480 Main Street
Vermilion, OH44089

BERMUDA:

Bermuda Maritime Museum
Po Box MA 273
Mangrove Bay, Bermuda MA BX

CANADA:

Canadian Hydrographic Service
Surveys and Mapping Branch
No 8 Temporary Building
Ottawa Ontario Canada

Wheelhouse Maritime Museum
222 Cumberland Street
Ottawa 2,
Ontario, Canada,K1N 7H5

Public Archives of Canada
Trade and Communications Records Center
395 Wellington Street
Ottawa, Canada,K1A ON3



ENGLAND:

Imperial War Museum
Lambeth Rd
London, England,SE1 6HZ

National Maritime Museum
Greenwich
London, England,SE1 9NF

Cunard Museum
University of Liverpool
P.O. Box 147
Liverpool, England, L69 3BX



SPAIN:

Archives Of The Indies
Seville, Spain

Museo Naval
Madrid, Spain

Museo National
Madrid, Spain
Number of pages: < Previous | 1 | 2 | 3 | 4 | 5 | 6 | 7 | 8 | 9 | 10 | 11 | 12 | 13 | 14 | 15 |

| 16 | 17 | 18 | 19 | 20 | 21 | 22 | 23 | 24 | 25 | 26 | 27 | 28 | 29 | 30 | 31 | 32 | 33 | 34 | 35 | 36 | 37 | 38 | 39 | Next >
Sources: "Shipwreck Diving", "New Jersey Beach Diver", and "Tropical Shipwrecks" By Capt. Dan Berg