Metal Detecting in Lincolnshire, England
Late Medieval Coins & Artifacts Found by Treasure Hunter Dave
Location of Lincolnshire, England, Where Dave Metal Detects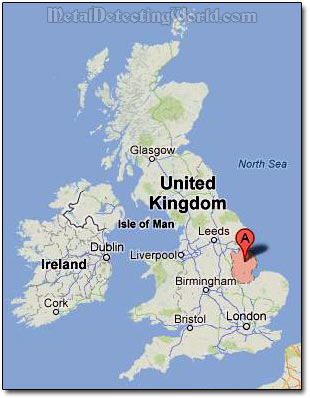 A Note From Dave:
"Dear Sergei,
Over the years, together with members of a detecting group, we have unearthed quite a range of coins and artifacts, and here are images of a selection of them which I hope will prove to be of interest. All the below finds (except the spear-head) were found in East Lincolnshire.
Detectors That I Have Used Since 1980
"I started detecting in 1980, the first machine being a C-Scope TR300, which I did well with. Metal detecting was virtually unheard of in this area at that time. Living in Lincolnshire on the east coast of England, I spent a lot of time on the local beaches where, quite naturally, the bulk of finds were coins and jewelry items. At one hunt site, there was a submerged mediaeval village and a Roman signal station which were reclaimed by the sea during the 13th century.
My next detectors were also C-Scopes (VLF/TR950D, followed by a 990B). I much preferred the 'tone discrimination' to the meter readings. I found the 990B a real pleasure to use, and I never knew it to 'lie'. It was with this machine that I found my earliest (metal) artifact - a spearhead from the Middle Bronze Age, whilst on holiday in the Yorkshire Dales.
In the mid-1980s, I invested in a newly-released detector - the legendary Fisher 1265X, again a tone-discriminator. And I found this a winner because everything about it was right for me - straight-forward to use, light, well balanced, a great "switch-on-and-go" machine. After all this time, I still have it, and it is still operable, though it does not often get used - but a great back-up, if ever required.
My next detectors were all Fishers: 1266X (great on inland sites and dry sand beaches - too sensitive on wet stretches of beach), 1235X with the frequency shift - I found that it was very good on rallies. Users will remember what it was like when two 1265Xs were in close proximity! The last Fisher which I bought was my 1236-X2, which I consider to be another winner. It has found some lovely stuff, and lots of spendable money on the beach as well. On inland sites, it has done superbly well and been very reliable with small hammereds.
Another machine which I grew to like was a Tesoro Lobo. I wish I would have hung on to that one, but it went in a deal towards a Minelab E-Trac, in turn, I let that go. The most recent machine is an XP GoldMaxx Power, which I am getting more used to now. It is a great machine to use on inland sites and 'dry' beaches.
Remember, of course, that this lot is over a 30 year period - I've hung on to a few of the earlier detectors which are more valuable as 'back-ups' than what they would fetch if sold. I picked up a Minelab Quattro which I have been using on certain parts of the beach. I am not too partial towards the idea of visual ID though, as said, I like tone discrimination machines. This is one reason why I have not up-dated with the later generations of Fisher detectors, though they, no doubt, probably are excellent.
Good luck and Happy Hunting!
Dave"
1) Spearhead, circa 1450-900 BC (Middle Bronze Age) - found in Wensleydale (Yorkshire) with the C-Scope 990B metal detector. The spearhead is socketed and sidelooped and still retains sharp edges. It contained a section of the wooden shaft, which the archaeologists sent to the British Museum for carbon date testing in 1999 (I never received a promised report on that!).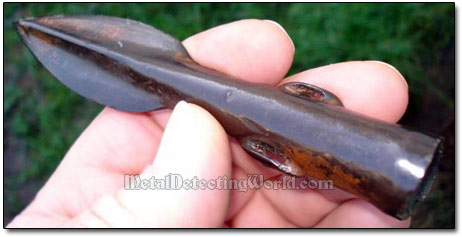 Number of Pages: | 1 | 2 | 3 | 4 | 5 | 6 | 7 | 8 | 9 | 10 | 11 | 12 | Next >
Other TH'ers' Best Finds page | Types of Metal Detecting Activities | Useful Articles page | Secrets for Beginners | Home