Relic Hunting in Germany
The Wars of Coalition (1792 to 1815) Relics Found by Guenter, page 1
From Guenter:

"Hello Sergei!
First please let me congratulate you on your excellent site!
I am a relict hunter from Germany and I especially love to search on former battlefields of the Wars of Coalition (1792 to 1815). Here in Bavaria we are lucky to have several of them.
I mostly search on battlefields of the Second War of Coalition (1800) and of the Fifth War of Coalition (1809) - here some of the battles were lead by the famous French Emperor Napoleon Bonaparte himself).
Attached are several pictures of military relics and artifacts all found by myself. If you like, you can show all of them as an inspiration for fellow detectorists on your web site.
Best regards from Bavaria and keep on the good work!
Guenter"
Guenter uses the XP GoldMaxx Power metal detector (French made) and he also owns a huge (45cm) DD search coil.
Guenter Metal Detects in Bavaria, Germany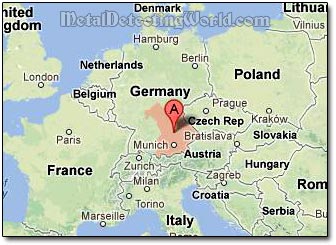 A Bavarian Sixpounder Solid Cannon Ball Still Half-Buried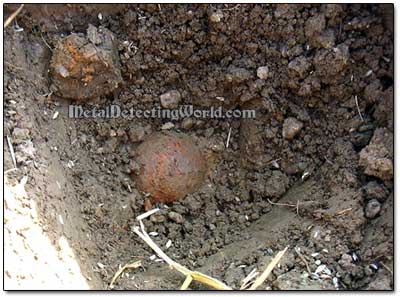 A Freshly Dug Out Austrian Sixpounder Solid Cannon Ball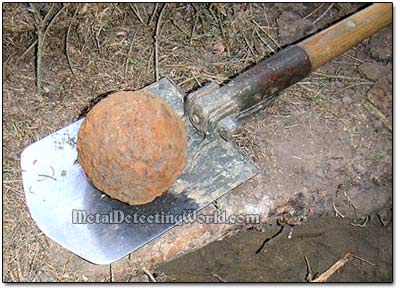 All 5 solid shot of Napoleonic field artillery in semi-cleaned condition - 3-pounder (Bavarian), 4-pounder (French), 6-pounder (Bavarian), eight-pounder (French), 12-pounder (Bavarian).
A shelf in Guenter's room with 8 cannonballs in cleaned and preserved condition (various calibers, Austrian, Bavarian and French origin).
Smaller canister balls (grape shots), 1.1 inch left and 0.9 inch right - most are probably of French origin.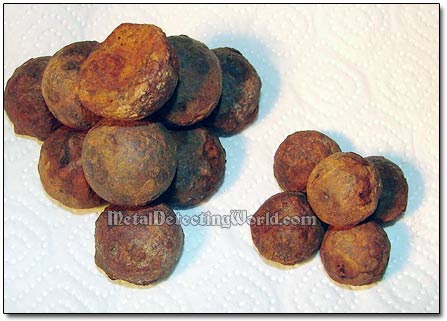 Fragments of Napoleonic Grenades (Howitzers)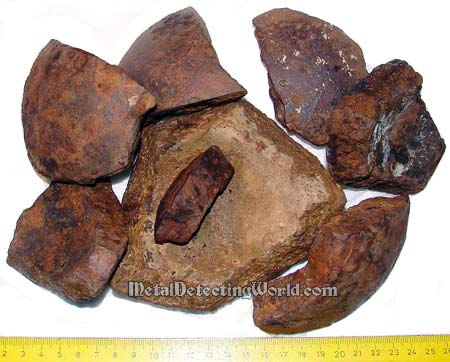 Number of pages: | 1 | 2 | 3 | Next >