Part II: Revisiting the "Virgin" Site of Swedish Tavern, page 65
Discovering Russian Silver Coin
Any silver find is great! Even if it was a "modern" silver coin, finding it certainly prevented me from going into any "trance" during my search!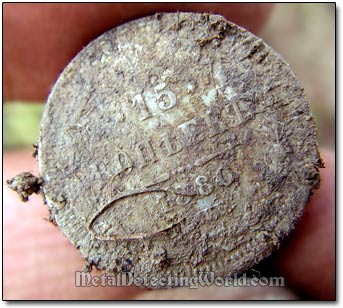 Plus, I have never seen an ugly silver coin!
Russian Imperial Silver 1880 15 Kopeks, Emperor Alexander II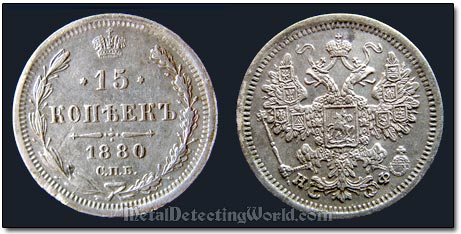 OBVERSE: Crowned 2-headed Imperial eagle of Russia, initials Н-Ф under eagle.
REVERSE: crown, value *15* КОПЬЕКЬ, date 1880, mint mark С.П.Б., wreath around
Weight: 2.69g
Diameter: 19mm
Edge: Reticulated
Silver Content: 0.500
Mint: St. Petersburg
Brief Historical Facts on Aleksander II Nikolaevich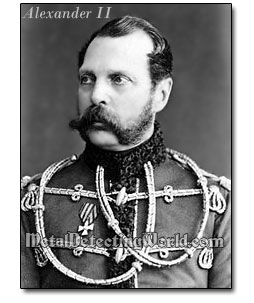 "Aleksander II Nikolaevich (1818 - 1881), also known as Alexander the Liberator was the Emperor of Russia from 1855 until his assassination in 1881. He was also the King of Poland and the Grand Duke of Finland.
He was the eldest son of Tsar Nicholas I (House of Holstein-Gottorp-Romanov) of Russia and Charlotte of Prussia, daughter of Frederick William III of Prussia and Louise of Mecklenburg-Strelitz. His early life gave little indication of his ultimate potential. Until the time of his accession to the throne in 1855, aged 37, few imagined that he would be able to implement the most challenging reforms undertaken in Russia since the reign of Peter the Great.
Alexander II succeeded to the throne upon the death of his father in 1855. The first year of his reign was devoted to the Crimean War and, after the fall of Sevastopol - an important strategic port in Black Sea, to negotiations for peace. The country had been exhausted and humiliated by the war. Bribe-taking, theft and corruption were everywhere. Encouraged by public opinion, he began a period of radical reforms, including an attempt to gain independence from aristocracy controlling the poor, a move to developing Russia's natural resources, and to thoroughly reform all branches of the administration.
During the reign of Alexander II, freedom of thought and all forms of private initiative were being suppressed vigorously. Personal and official censorship was increasingly prevalent. Criticism of the authorities was regarded as a serious offence. Some 26 years after he implemented changes, he was assassinated in public by the Narodnaya Volya (People's Will) terrorist organization."
...So what would be the best way, or Algorithm if you wish, to "tame" our intuitive power? A while ago I thought that one's true desire to find a certain coin would be sufficient enough. Now I believe that wanting something for real might be just an important part of the process. And only after you master this part, you can move to the next level. I wish I had some education in psychology to explain everything in a more professional way.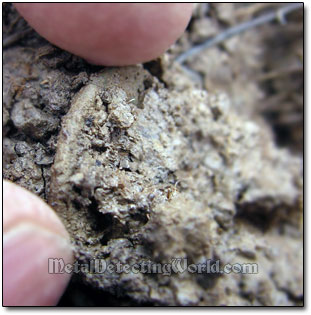 In my case, I can only apply logic and common sense. I assume there are desires of different strengths, which we deal with daily. Desires on the lower end of the desire-intensity scale are not strong: "Yeah, sure, why not..." Desires on the high end of the scale are the strongest: "I want that or I'm dead!"
Another Halvöring Joined My Copper Coin Collection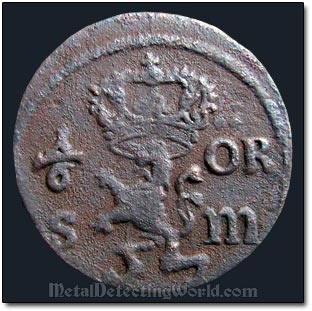 Number of pages:

< Previous | 1 | 2 | 3 | 4 | 5 | 6 | 7 | 8 | 9 | 10 | 11 | 12 | 13 | 14 | 15 | 16 | 17 | 18 | 19 | 20 | 21 | 22 | 23 | 24 | 25 |

| 26 | 27 | 28 | 29 | 30 | 31 | 32 | 33 | 34 | 35 | 36 | 37 | 38 | 39 | 40 | 41 | 42 | 43 | 44 | 45 | 46 | 47 | 48 | 49 | 50 |

| 51 | 52 | 53 | 54 | 55 | 56 | 57 | 58 | 59 | 60 | 61 | 62 | 63 | 64 | 65 | 66 | 67 | 68 | 69 | 70 | Next >