Part I - Metal Detecting at the Swedish Tavern Site, page 27
Finding 1/6 Öre Coins, Russian and Swedish Relics of Different Periods
I went back to where I stopped detecting and back to my "busy railroad of ideas." ...Considering the E-Trac's amazing ability in detecting a coin partially masked by a small iron target, I realized that the "hammered out" sites with the highest concentration of nails would be now the most productive.
That is where the E-Trac would put its full potential into effect. Now I knew where I could test my idea soon - near the railroad but not too close to it! The cultural level within ten meters to the railroad grade was destroyed long time ago... Another quick stop to pick up a coin!
My Coin-Find #7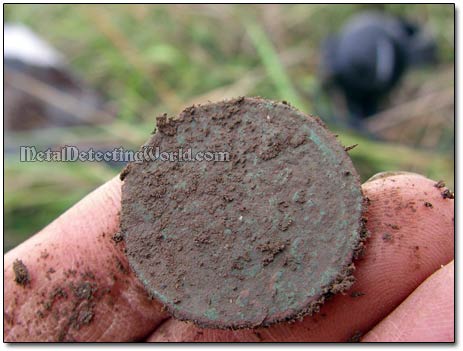 Obverse of 1666 Halvöring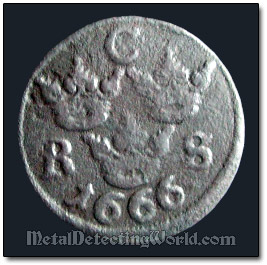 My quick stop for a coin was prolonged as I received another non-ferrous signal and dug up a bronze signet ring with a broken band, circa early 18th century.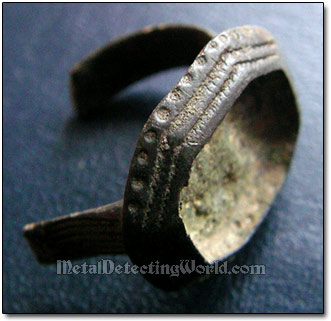 My next relic find was a copper artifact identical to the one I found on our first visit here.
Traces of Silver on Relic's Front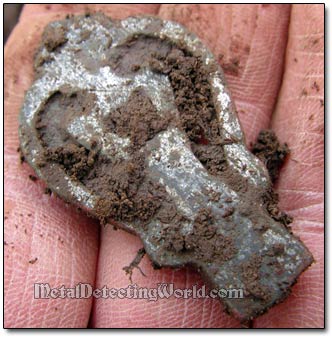 Just like the first one, this artefact was 4cm (1.5") long, initially silver plated, had a rivet at the back and looked like some decorative strap end of an open-work design or a mount for harness. I needed to do some research to ID this find.
Front and Back of Artefact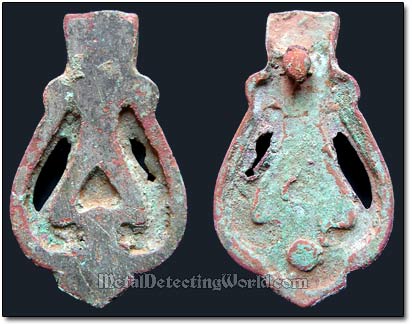 Number of pages: < Previous | 1 | 2 | 3 | 4 | 5 | 6 | 7 | 8 | 9 | 10 | 11 | 12 | 13 | 14 | 15 | 16 | 17 | 18 | 19 | 20 | 21 | 22 | 23 | 24 | 25 |

| 26 | 27 | 28 | 29 | 30 | 31 | 32 | 33 | 34 | 35 | 36 | 37 | 38 | 39 | 40 | 41 | 42 | 43 | 44 | 45 | 46 | 47 | 48 | 49 | 50 |

| 51 | 52 | 53 | 54 | 55 | 56 | 57 | 58 | 59 | 60 | 61 | 62 | 63 | 64 | 65 | 66 | 67 | 68 | 69 | 70 | Next >