Part I - Metal Detecting at the Swedish Tavern Site, page 42
Relics & Coins Found at "Virgin" Site
12 musket balls that I had recovered at the tavern site represented all typical musket calibers: the smaller pistol shot was 13mm in diameter, the largest lead ball was 20mm in diameter. And one Minie ball completed the group.
Musket Balls and One Minie Ball Found at the Krog Site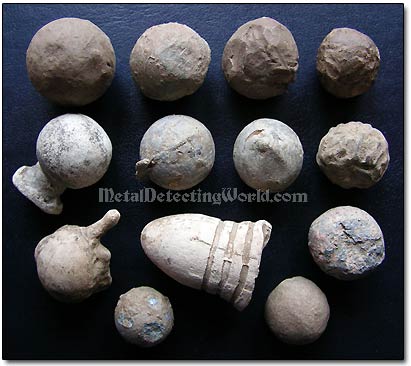 At this location, we did not expect to recover as many relics as the usual homestead site would yield. The tavern was a small single-standing house that was not surrounded by any dwellings or household sheds. No farming took place here either, therefore various tools and household items could not be present at this small property. If to set aside the WW1 and WW2 relics and a couple of old artifacts that we had recovered at this location, other relics and artifacts represented an assortment of finds usual for this or any other areas.
Relics Found with Minelab Metal Detectors at the Krog Site (large pieces excluded)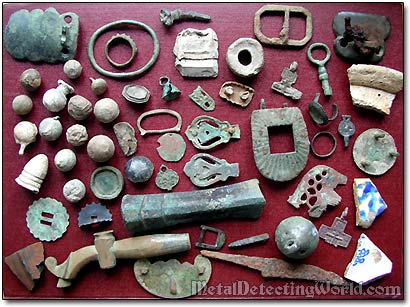 I always wondered what metal detecting in Sweden would be like? In past four years, a few Swedish treasure hunters had sent me e-mails asking various questions. Even after learning a little about Swedish history, I can only imagine what fun it would be to metal detect near Stockholm and unearth an amazing variety of old Swedish coins.
But there is one little problem - metal detecting is PROHIBITED in Sweden! Here is an e-mail that came in from a detectorist just a few days ago:
"Hi Sergei,
Finally, somebody thinks like me! I think the state produced this law because they want it all, f.ers! I can tell you something, I come from the largest island in Sweden named Götland, the city of Wisby. On Götland, there is so much to find, it would drive you crazy! The farmers are finding treasuers on the fields when they are plowing. It's sooo cool. That's the reason I'm buying a better detektor, not only for the trip to Russia... I got my family and friends on Götland so I'm bringing my detektor there! But if the locals see me searching, I better run, because they are calling the police direct. But I think I got a tactic that may work. :)
Cheers Mr Sergei!
Ivor"
E-mails like this make me think that we should not take metal detecting for granted ever! To some of us in those countries where metal detecting is popular and thriving, the process of metal detecting might be challenging sometimes. But to treasure hunters in those countries where Archaeological Laws do not make any sense, metal detecting is a RISK every time they go hunting! So when you are returning home empty-handed, therefore in a gloomy mood, from your metal detecting outing, remember Ivor from Götland and stay positive!
If it was not for the law, I would go to Sweden for metal detecting fun! But I would not probably have any spare time to do so, especially when I have to dig up Swedish coins right where I am at the moment. Detecting at this krog site (which is unusual for Russia) gave me a delicious taste of coin shooting in Sweden and certainly saved me a trip to Stockholm!
29 Swedish Coins (+ one Russian coin) Found with Minelab Explorer II and E-Trac at the Krog Site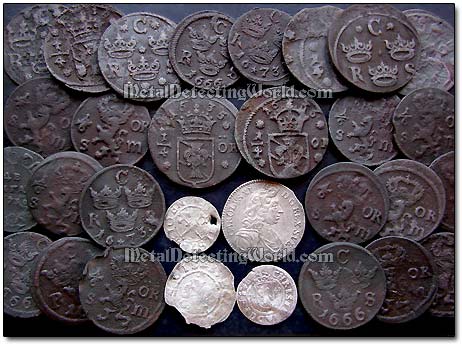 Number of pages: < Previous | 1 | 2 | 3 | 4 | 5 | 6 | 7 | 8 | 9 | 10 | 11 | 12 | 13 | 14 | 15 | 16 | 17 | 18 | 19 | 20 | 21 | 22 | 23 | 24 | 25 |

| 26 | 27 | 28 | 29 | 30 | 31 | 32 | 33 | 34 | 35 | 36 | 37 | 38 | 39 | 40 | 41 | 42 | 43 | 44 | 45 | 46 | 47 | 48 | 49 | 50 |

| 51 | 52 | 53 | 54 | 55 | 56 | 57 | 58 | 59 | 60 | 61 | 62 | 63 | 64 | 65 | 66 | 67 | 68 | 69 | 70 | Next >