Part I - Metal Detecting Swedish Coins at the Tavern Site, page 19
Digging More 1/6 Ore Copper Coins
I was wondering if there were any Russian coins buried at this site at all. Here in Russia, I had never had such an experience of recovering only foreign coins at one place.
Another Swedish Copper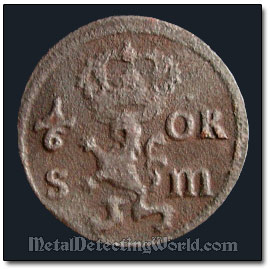 I also was wondering if more silver hammered coins could be found here. I was carefully listening to any uncertain signal that I could get from in between the iron nails which were in abundance here. When the loud freight train was rolling by in close proximity, I would just stop detecting and wait until the train would clatter away. Despite all my efforts, I could not find a single "pull-tab" signal of a silver hammered. Instead, another copper popped up.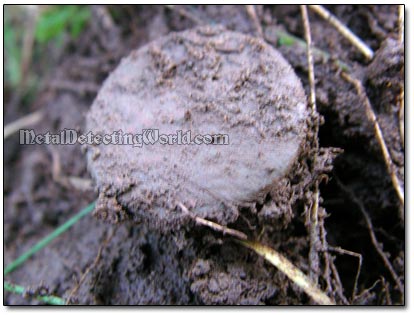 My Swedish Coin-Find #8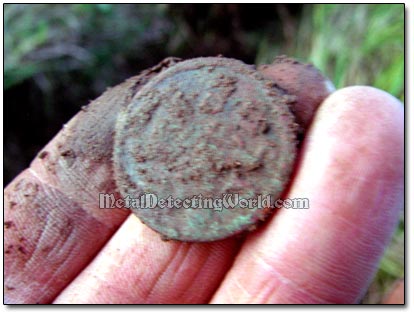 Swedish 1667 1/6 Öre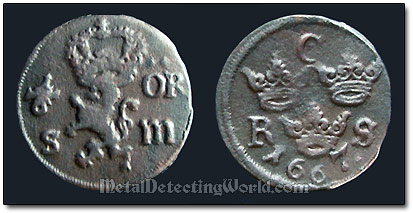 The 1/6 Öre was the smallest coin denomination back in the 1670-80's. That was why the 1/6 Öre coins were the majority of coins we had unearthed so far. Bobby managed to find his second coin which was of 1/4 Öre denomination, and that was probably his last find in this outing as he was not experienced enough to metal detect without a headlamp in the total darkness, and unfortunately we did not have a spare one for him.
Nikolai had found five coins, all of them were the 1/6 Öre's. Because Bobby could not continue detecting, Nikolai and I decided to dig up two more solid signals each and call it a day. The only minor problem was that there were no more good solid signals left at the available space of this small parcel. None of us wanted to deal with tough spots at night.
Number of pages: < Previous | 1 | 2 | 3 | 4 | 5 | 6 | 7 | 8 | 9 | 10 | 11 | 12 | 13 | 14 | 15 | 16 | 17 | 18 | 19 | 20 | 21 | 22 | 23 | 24 | 25 |

| 26 | 27 | 28 | 29 | 30 | 31 | 32 | 33 | 34 | 35 | 36 | 37 | 38 | 39 | 40 | 41 | 42 | 43 | 44 | 45 | 46 | 47 | 48 | 49 | 50 |

| 51 | 52 | 53 | 54 | 55 | 56 | 57 | 58 | 59 | 60 | 61 | 62 | 63 | 64 | 65 | 66 | 67 | 68 | 69 | 70 | Next >