Part II: Revisiting the "Virgin" Site of Swedish Tavern, page 48
Metal Detecting Old Copper Coins
I could not be an observer any longer! I was just about to walk to where my E-Trac was impatiently waiting for me, as Irina got another signal, pulled another dirt plug out, and was checking the hole for a signal.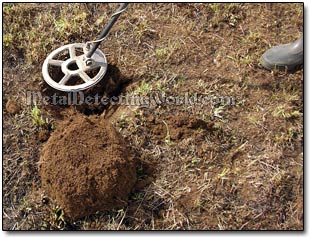 By seeing Irina carefully recovering this target, I could tell that she had received a good signal this time.
Locating a Target Inside the Dirt Plug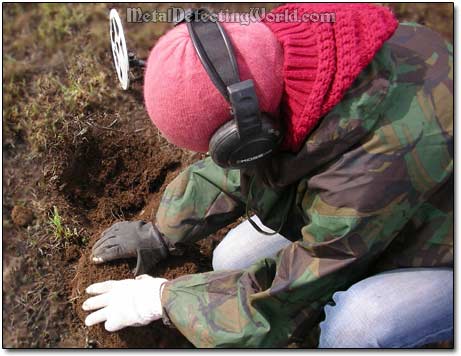 Finally Irina retrieved a target from the dirt plug, and I could see a copper coin in her hands! Nice! "What is it?!"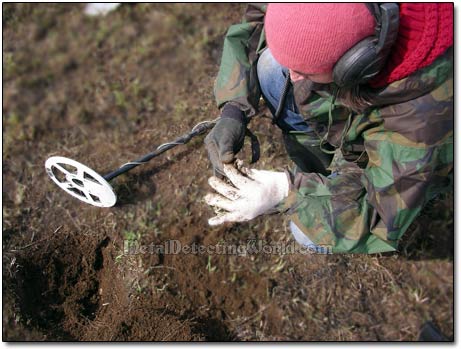 "Hold on!" - Being excited, Irina kept rubbing the coin to see any date or legend on it.
Suddenly her excitement vanished from her face as she identified the coin. Wondering about what possibly could have changed her mood 180° so fast, I was still excited because she found a coin at the spot where my Minelab Explorer, Minelab E-Trac and two other metal detectors "left a lot of coil marks" on the ground last season. I mean this spot was "pounded" to the last nail head! And now, Irina the beginner was holding a coin found with the last-century detector at this spot!
Can You Guess What Coin Did She Find?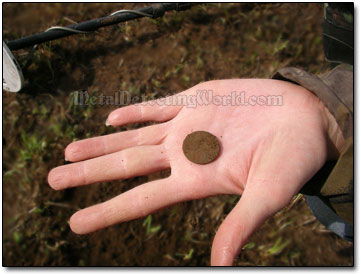 "No way!" Way yes. I do not know how to explain this, but Irina found another Russian Imperial 2-Kopeck coin minted during the reign of Alexander II in 1869!
Irina's Find - Russian Imperial 1869 2 Kopecks after Being Cleaned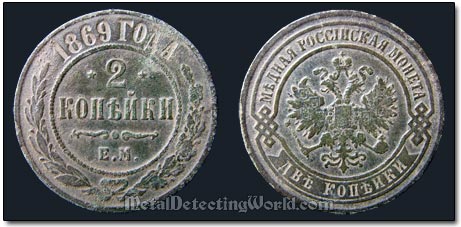 Oh well, the mystery, the spell... At least now I knew that here there were coins still waiting for a shovel! At this moment, I shared my thought with my friend and decided to leave her alone so she could plan her next scope of action. It was time for me to get my detector and have some metal detecting fun too.
I was determined to find another "hot pocket"! I did not turn on my E-Trac until I reached the spot - the only low area at the site, that I had kept in mind since my last visit. And that was where the fun began right away. My first coin find was an old copper.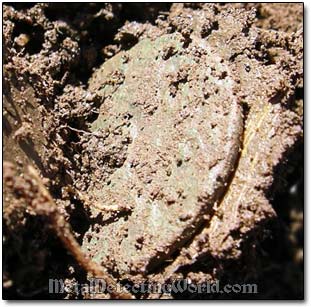 After I brushed away the dirt, I could see the off-centered reverse design of the Swedish 1/6 Öre coin. The displaced coin-design is a characteristic feature of Swedish coins of that period.
Number of pages:

< Previous | 1 | 2 | 3 | 4 | 5 | 6 | 7 | 8 | 9 | 10 | 11 | 12 | 13 | 14 | 15 | 16 | 17 | 18 | 19 | 20 | 21 | 22 | 23 | 24 | 25 |

| 26 | 27 | 28 | 29 | 30 | 31 | 32 | 33 | 34 | 35 | 36 | 37 | 38 | 39 | 40 | 41 | 42 | 43 | 44 | 45 | 46 | 47 | 48 | 49 | 50 |

| 51 | 52 | 53 | 54 | 55 | 56 | 57 | 58 | 59 | 60 | 61 | 62 | 63 | 64 | 65 | 66 | 67 | 68 | 69 | 70 | Next >