Part II: Revisiting the "Virgin" Site of Swedish Tavern, page 59
Improvised "Competition Hunt" with Copper & Silver Prizes
Irina shouted her congrats from a distance, and I went back to the process of thinking. ...Many times I would find a nice silver coin right after arriving at the unfamiliar site, and then make no coin finds for the rest of the hunt...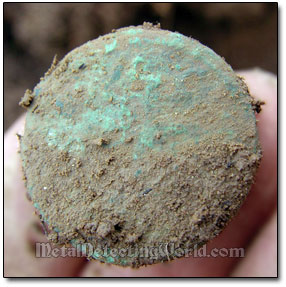 ...But for the first few moments after arrival, I somehow knew in which direction to walk and which spot to detect first to "grab" the only coin-find at the site. And I know a few people who experienced the same. Just like in dowsing, something GUIDED people to the spot, and no question-answer routine was even taking place. Some inner mechanism was functioning without a person knowing it. What would trigger that mechanism?..
My stream of thoughts was interrupted by the sound of a car approaching. My friend Maxim had just arrived from work to join us in the coin shooting process. Like Irina, he did not have his own metal detector yet, so they had to share my Tesoro Cortes. Irina was happy to take a long break as she got exhausted with "learning new signals" - digging a ton of iron nails and whatever traces of junk she could find at the "pounded" spot.
Maxim and Irina were on the same level of metal detecting experience - the beginners, and seemed to have the same attitude which was based on persistence and strong will. They could be very successful in treasure hunting, provided they keep their attitude on the same level. When Irina showed Maxim her coin find, Maxim did not want to waste another second. He took over exactly at the spot where Irina had stopped, and began investigating every miniscule "chirp" and "tweet" with fresh vigor. He certainly enjoyed himself after sitting behind the desk in the office all day.
Vivacious Metal Detecting - "8 Holes in 8 Seconds"!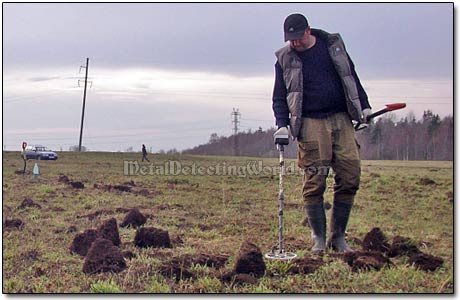 After having watched Maxim's enthusiastic "vacuuming" of the spot, Irina suddenly wanted to continue metal detecting. I liked the idea, gave her my E-Trac, and took a lunch break. While lunching, I was witnessing an improvised "competition hunt". Both Irina and Max were working hard to find a nice "keeper".

Maxim was first to score as he dug up a nice silver specimen!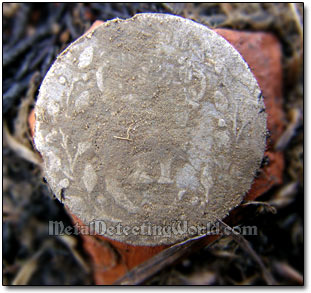 His find was the whole coin unlike my coin-find of the same type. Everybody were ecstatic, and Maxim was overwhelmed with congratulations! Now he was hooked! If he had any doubts about his involvement in this hobby before, now, finding "old silver" was a decisive factor for him in favor of purchasing a metal detector.
Swedish 1689 1 Öre, King Carl XI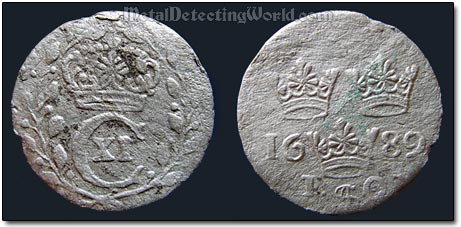 OBVERSE: Crowned CXI monogram, wreath around
REVERSE: 3 crowns, date 16-89, value, mint mark
Weight: 1.23g
Diameter: 17.5-18mm
Silver Content: 0.250
Mint: Stockholm
Number of pages:

< Previous | 1 | 2 | 3 | 4 | 5 | 6 | 7 | 8 | 9 | 10 | 11 | 12 | 13 | 14 | 15 | 16 | 17 | 18 | 19 | 20 | 21 | 22 | 23 | 24 | 25 |

| 26 | 27 | 28 | 29 | 30 | 31 | 32 | 33 | 34 | 35 | 36 | 37 | 38 | 39 | 40 | 41 | 42 | 43 | 44 | 45 | 46 | 47 | 48 | 49 | 50 |

| 51 | 52 | 53 | 54 | 55 | 56 | 57 | 58 | 59 | 60 | 61 | 62 | 63 | 64 | 65 | 66 | 67 | 68 | 69 | 70 | Next >