Part I - WW1 & WW2 Relic Hunting at the Swedish Tavern Site, page 34
Digging Up Shrapnel Balls, German Tunic Buttons & Unfired Mouser K98 Rifle Rounds
...Some detectorists confuse the WW2 round shrapnel balls with musket balls, but it is very easy to distinguish an old musket ball from the shrapnel spherical bullet or a shot. Unlike the musket balls of various diameters, the WW1 shrapnel balls are of the same diameter - approximately ½ inch (13-15mm).
And if you place a musket ball next to a lead shrapnel ball, you will see the following differences: 1) in their color - a shrapnel shot is always of grey-bluish color while the old musket balls have either the dark- or light-brown patina, 2) musket balls are not as smooth as the shrapnel balls and 3) the shrapnel balls are perfectly round and do not show any production defects besides the spots of impact.
Comparing a Musket Ball (on the left) to a Shrapnel Ball (on the right) of WW2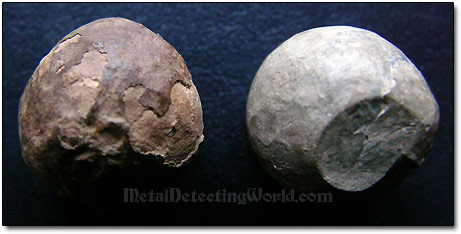 One of my WW2 relic finds was a typical German uniform tunic button.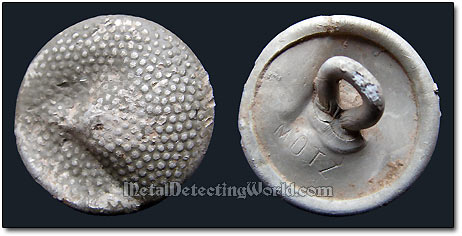 Other WW2 relics I unearthed included fired brass casings of the German 7.92x57mm IS (IS stands for "Infanterie, Spitz" or "Infantry, Pointed") cartridges for the Mauser K98 rifles, bullets and casings of the Russian 7.62x54mmR (R stands for "Rimmed") cartridges (called "the Russian 30-06" in the US) for the Mosin-Nagant and Tokarev SVT-40 rifles, brass casings of the Russian 7.62x25mm Tokarev cartridges for PPSh-41 ("Shpagin machine pistol") submachine gun, two splitters (fragments of the brass driving band of an artillery projectile), a fragment of the harmonica reed, etc.
My WW2 Relic Finds Excluding Large Pieces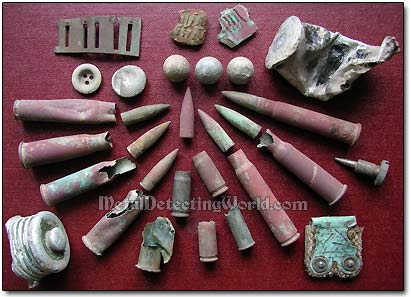 When I was cleaning the dirt off the relics shown in a picture above, I discovered that one of the rifle brass casings, partially broken, still contained the gunpowder inside. That gave me an excellent opportunity to find out if the gunpowder could still produce a powerful burst.
Original Gunpowder Had Remained in a Broken Brass Casing since 1944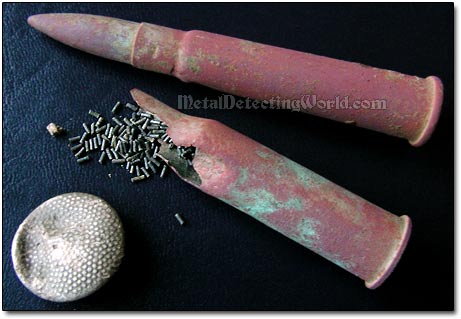 Number of pages: < Previous | 1 | 2 | 3 | 4 | 5 | 6 | 7 | 8 | 9 | 10 | 11 | 12 | 13 | 14 | 15 | 16 | 17 | 18 | 19 | 20 | 21 | 22 | 23 | 24 | 25 |

| 26 | 27 | 28 | 29 | 30 | 31 | 32 | 33 | 34 | 35 | 36 | 37 | 38 | 39 | 40 | 41 | 42 | 43 | 44 | 45 | 46 | 47 | 48 | 49 | 50 |

| 51 | 52 | 53 | 54 | 55 | 56 | 57 | 58 | 59 | 60 | 61 | 62 | 63 | 64 | 65 | 66 | 67 | 68 | 69 | 70 | Next >