Part I - Metal Detecting at the Swedish Tavern Site, page 43
Last Metal Detecting Day of the Season
Next morning, I came to the window and realized that this was probably the last day of metal detecting season.
The First Snow Day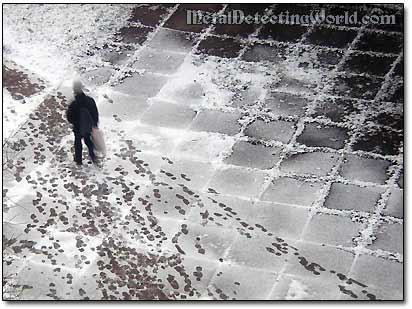 Nikolai and I considered a few locations for detecting and made a decision to drive eastward to the area where there was less snow on the ground. It was a beautiful but very cold day, nevertheless it was a perfect day to end the treasure hunting season. We had to follow a ritual - search a very old location, and possibly find a silver coin. If this was accomplished, next season would be successful.
Driving on Tallinn-St. Petersburg Highway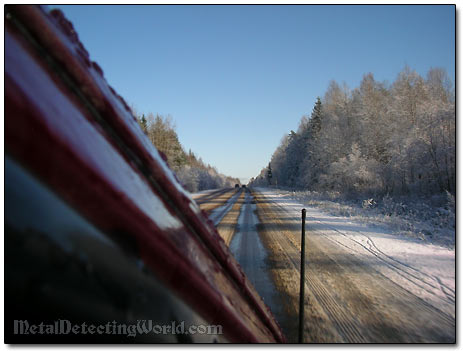 Winter had finally arrived, and we could hardly accept this fact. We had not carried out everything we planned for this season, and now all our unfinished detecting projects had to wait until next April! As if to pinch myself to see if this first day of winter was an unpleasant dream, I rolled the window down expecting to feel the warmer autumn air.
Instead, the subzero wind chill "pinched" my face. I looked at the frozen forest moving by and realized that four months of waiting would be tough... Nikolai started getting cold and remotely rolled my window up.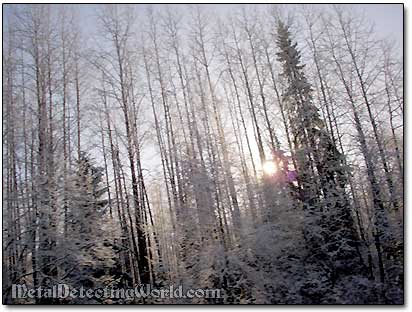 Number of pages: < Previous | 1 | 2 | 3 | 4 | 5 | 6 | 7 | 8 | 9 | 10 | 11 | 12 | 13 | 14 | 15 | 16 | 17 | 18 | 19 | 20 | 21 | 22 | 23 | 24 | 25 |

| 26 | 27 | 28 | 29 | 30 | 31 | 32 | 33 | 34 | 35 | 36 | 37 | 38 | 39 | 40 | 41 | 42 | 43 | 44 | 45 | 46 | 47 | 48 | 49 | 50 |

| 51 | 52 | 53 | 54 | 55 | 56 | 57 | 58 | 59 | 60 | 61 | 62 | 63 | 64 | 65 | 66 | 67 | 68 | 69 | 70 | Next >