Part I - Metal Detecting at the Swedish Tavern Site, page 46
Last Silver Coin Find of the Season
The fact that it was a Soviet coin did not diminish my elated mood. It felt the same as discovering a silver Mercury Dime at the searched out site somewhere in Upstate NY. After all, finding silver is always a pleasure!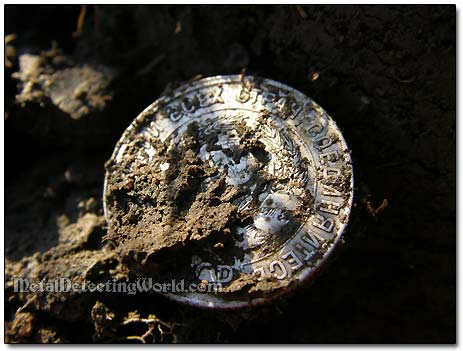 I carefully separated the coin from the dirt lump to which it had been stuck, and the coin left a clear imprint on it.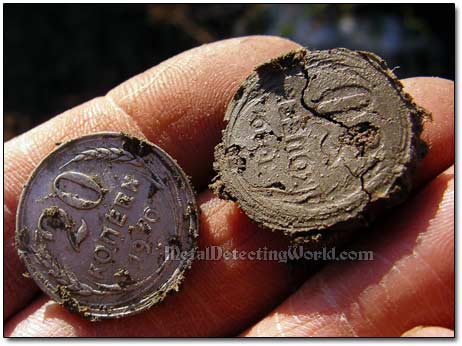 The old ritual was completed - next metal detecting season was going to be as successful as this one!
Soviet Silver 1930 20 Kopecks Coin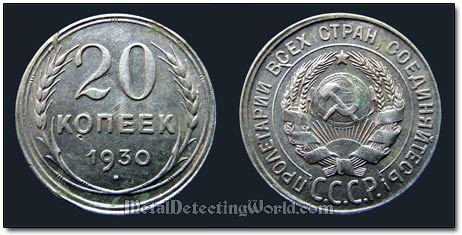 Ahead, it would not be just waiting for the next season. The upcoming four winter months would be devoted to studying the old maps and books, researching new detecting locations, creating a new scope of action, and, of course, writing new treasure hunting stories which had been waiting long for their turns.
A Full Moon Marks the End of This Year's Detecting Calendar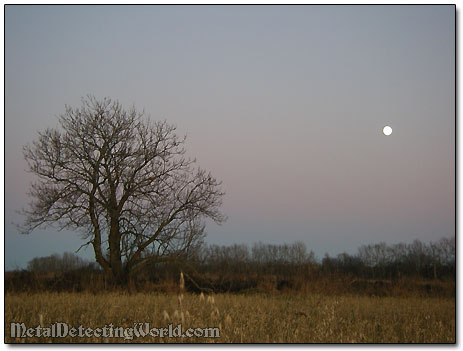 This was a great season - many valuable finds had been discovered, new practical experience (including mastering the Minelab E-Trac) had been gained, and lots of historical facts had been learned. Bringing this newly attained knowledge and skills into the next season will allow me to make new superb discoveries and achieve a higher level in treasure hunting!
Happy Hunting!
Seasonal Trophies Waiting To Be Cleaned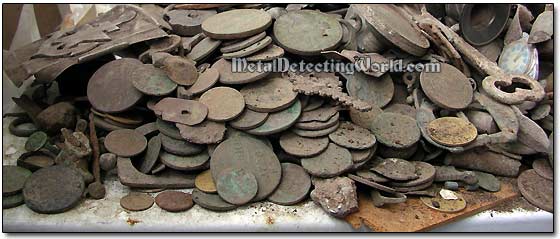 Number of pages: < Previous | 1 | 2 | 3 | 4 | 5 | 6 | 7 | 8 | 9 | 10 | 11 | 12 | 13 | 14 | 15 | 16 | 17 | 18 | 19 | 20 | 21 | 22 | 23 | 24 | 25 |

| 26 | 27 | 28 | 29 | 30 | 31 | 32 | 33 | 34 | 35 | 36 | 37 | 38 | 39 | 40 | 41 | 42 | 43 | 44 | 45 | 46 | 47 | 48 | 49 | 50 |

| 51 | 52 | 53 | 54 | 55 | 56 | 57 | 58 | 59 | 60 | 61 | 62 | 63 | 64 | 65 | 66 | 67 | 68 | 69 | 70 | Next >
Detecting In Russia page | All My Stories Directory | MetalDetectingWorld Home