Part II: Revisiting the Virgin Site of Swedish Tavern (Story 18), page 47
A Magic Spell To Break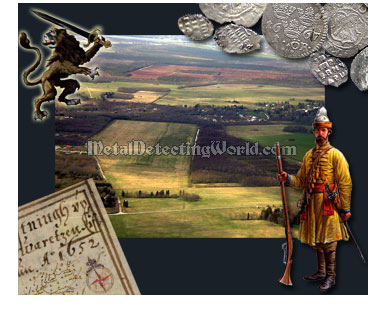 As soon as the snow melted, and the ground became soft and dry enough for efficient search, my friend Irina and I arrived at the tavern site to take advantage of the bare and smooth ground surface lacking any grass or vegetation.
Previously, a couple of the potentially good spots - areas adjacent to the main "hot" spot, had been left untouched due to the overgrown grass or for other reasons. This time, all the untouched spots were accessible.
But before getting to them, I had to supervise Irina for a short while to make sure she did everything right.
Although Irina had participated in a few hunts before, she was still learning the basics of metal detecting and needed an advise every now and then. And she badly wanted to break some magic spell under which she had been since she started metal detecting: during each of those few hunts, Irina found nothing but a coin of the same type and denomination - the Russian Imperial 2-Kopeck piece of the last half of the 19th century. Other participants would find all kinds of coins except this one type.
On one occasion, Irina, Nikolai and I were metal detecting at the site described in my stories #2 and #12. God knows how many other detectorists had visited that site since my stories were posted a few years ago. Nevertheless, while detecting at the most obvious spot near a single tree, Irina managed to unearth the only coin found during that outing. Yes, you have guessed it right, she found another 2-Kopeck piece! Nikolai and I left that site empty-handed...
Now, we were at a better metal detecting location which still had a potential. Because the Swedish tavern disappeared by the mid-18th century, and all coins that had been found here were minted before the 18th century, I thought that Irina finally had the best opportunity to break the spell.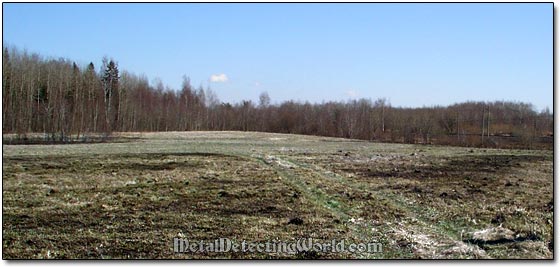 Metal Detecting on Bare Ground is The Best Opportunity for Coin Shooters
Knowing that this location was littered with many WW2 brass casings, Irina chose to metal detect at the hottest spot which had been definitely cleared of most junk targets on previous visits. Plus, she was determined to find an old coin at this "searched-out" spot, and I was just playing along. Good finds or not, she wanted to learn the questionable signals and would certainly acquire some new experience she needed.
After Irina quickly assembled the old good Tesoro Cortes, she headed to the spot which I knew like a book (I was sure of that after pounding it with my Minelab E-Trac). In five minutes, Irina got a questionable signal and dug a hole.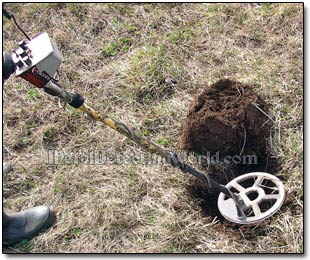 The First Hole Was Dug - The New Metal Detecting Season Started
Although it was just an old rusty nail, the adrenalin kicked in, and my blood circulation had returned.