Part II: Revisiting the "Virgin" Site of Swedish Tavern, page 61
One Thought On "Dowsing for Water Vs. Dowsing for Treasure"
It seemed that my friends had completely forgotten about me. And that would be ok with me if it was not for the fact that they were currently using only one detector. My poor Cortes was getting cold laying aside!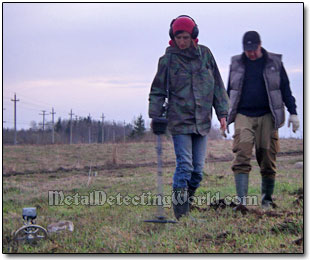 With a little bit of resistance from my friends, I confiscated my detector and headed to the field corner...
I have to make it clear I am not a dowser, and have never seen a real one - a person who would find a hidden coin on the ground (I have seen many attempts!), except those who dowse for water. I believe that dowsing for water is not the same as dowsing for treasures due to different physical properties of the objects sought.
It is much easier for a human body to react to the effect of the underground body of water - an object with large electromagnetic field, than a small cache of coins. It would be just a question of how sensitive this or that dowser can be to the reservoir of underground water...
The "Searched Out" Spot to Be Explored Again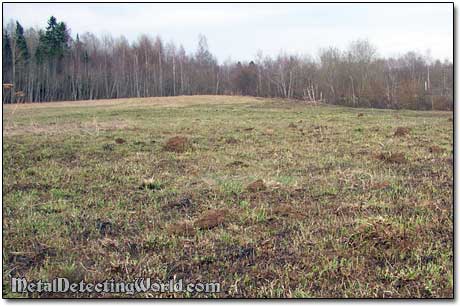 ...Dowsing for treasure is supposed to be more challenging because the big difference between electromagnetic "thresholds" (natural and the one of underground water) is out of picture. I think that dowsing for treasure can be associated with the principle on which the work of a metal detector is based. And what enters the picture now is a remnant of some human ability (to emit a signal and register the change in the environment of some sort caused by this signal) that humans lost a long time ago...
...And I Found Another Lost Coin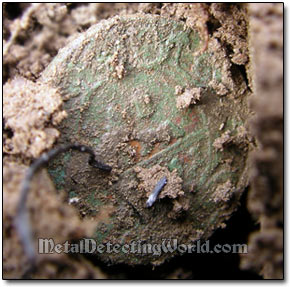 Russian 1743 Denga, Empress Anna (1730-1740), after Being Cleaned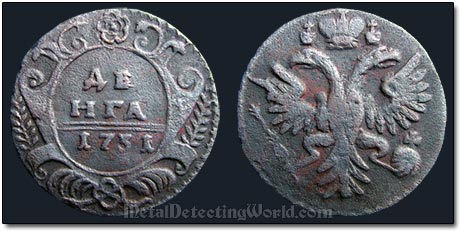 Brief Historical Facts on Empress Anna: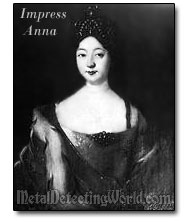 "Anna Ivanovna (1693 - 1740) reigned as Duchess of Courland (now western Latvia) from 1711 to 1730 and as Empress of Russia from 1730 to 1740. Anna was the daughter of Ivan V of Russia, as well as the niece of Peter the Great. The latter married her to Frederick Wilhelm, Duke of Courland, in November 1710, but on the return trip from Saint Petersburg in January 1711, her husband died. Anna continued ruling as Duchess of Courland from 1711 to 1730, with the Russian resident, Peter Bestuzhev, as her adviser (and sometimes lover). She never remarried after the death of her husband, but was reputed by her enemies to have indulged in a love affair with Ernst Johann von Biron (a Baltic German Duke of Courland and Semigallia in 1737, and a regent of the Russian Empire in 1740) for many years.
After taking the throne in 1730, Anna established herself as an autocratic ruler, using her popularity with the imperial guards and lesser nobility. To consolidate her power, she restored the security police, which she used to intimidate and terrorize those who opposed her and her policies. Anna's reign saw the beginnings of Russian territorial expansion into Central Asia.
At the beginning of Anna's reign in Russia in 1730, mintage of only small copper change – denezhkas and polushkas, started, continued after her death in 1740 through the short ruling of her son Ivan VI (1740-1741), and ended only during the reign of Empress Elizabeth (1741-1761) in 1755.
After Anna died at the age of 47, Ivan VI succeeded her but was only a one-year-old baby. Ernst Johann von Biron was appointed as a regent - a person selected to act as head of state (ruling or not) because the ruler is a minor, not present, or debilitated. This was an attempt to secure the line of Anna's father, Ivan V, and exclude descendants of Peter the Great from inheriting the throne; thus, continuing the never-ending struggle for dominating power between the Russian Royal dynasties."
Number of pages:

< Previous | 1 | 2 | 3 | 4 | 5 | 6 | 7 | 8 | 9 | 10 | 11 | 12 | 13 | 14 | 15 | 16 | 17 | 18 | 19 | 20 | 21 | 22 | 23 | 24 | 25 |

| 26 | 27 | 28 | 29 | 30 | 31 | 32 | 33 | 34 | 35 | 36 | 37 | 38 | 39 | 40 | 41 | 42 | 43 | 44 | 45 | 46 | 47 | 48 | 49 | 50 |

| 51 | 52 | 53 | 54 | 55 | 56 | 57 | 58 | 59 | 60 | 61 | 62 | 63 | 64 | 65 | 66 | 67 | 68 | 69 | 70 | Next >