Part II: Revisiting the "Virgin" Site of Swedish Tavern, page 55
Discovery of WW2 Uniform Button
My soul was pleased when I unearthed a marked button.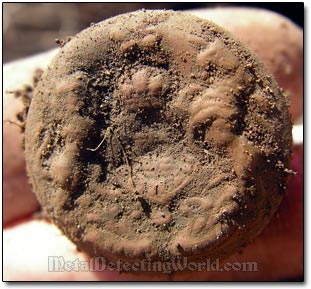 I could not figure out what kind of button I had just found as I had not seen such a piece "in person" before.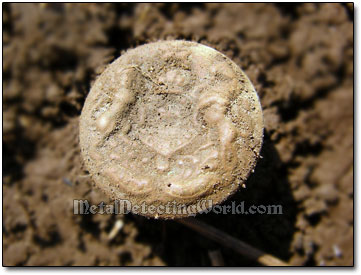 Only after I had cleaned it, I could see that it was the British WW2 General Service Corps Button. That was an unusual button find for this area; however, later in this season, I found another foreign marked piece which freaked me out and transferred me to another time and place where I had been before (details will be given in one of the following five parts of my story).
WW2 General Service Corps Button, Great Britain, after Cleaning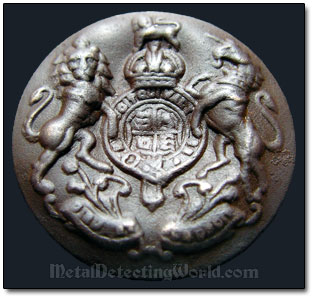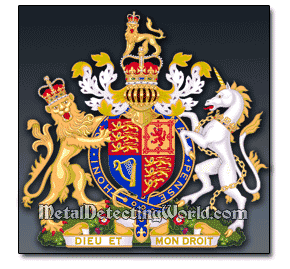 The General Service Corps comprise primarily reservists - specialists who have not been assigned to other units or corps and are usually active only in wartime. The General Service Corps button depicts the Royal Coat of Arms of the United Kingdom (except Scotland), Great Britain and Northern Ireland as used by Queen Elizabeth II from 1953 to the present.
The shield is surmounted by the Royal crown and shows the three lions of England in the first and fourth quarters, the lion of Scotland in the second and the harp of Ireland in the third.
The shield is surrounded by a garter bearing the motto "Honi soit qui mal y pense" ("Evil to him who evil thinks"), which symbolizes the "Order of the Garter" - an ancient order of knighthood of which the Queen is Sovereign.
Animal figures of the shield holders have changed a few times over the centuries: the falcon, swan, white boar (a badge of Richard III), the red Welsh dragon. Since 1603, the crowned British lion and Scottish unicorn have kept the spot.
The motto on a ribbon below the shield - "Dieu et mon droit", translates "God and my right" from French. The motto denotes the divine right of a monarch to be crowned, and has been in heraldry of British monarchy since the time of King Henry V of England (1413-1422). The original text read "Dieut et mon droict" in accordance to French orthography of that period. There are two types of this coat of arms, the second type is used in Scotland only.
Number of pages:

< Previous | 1 | 2 | 3 | 4 | 5 | 6 | 7 | 8 | 9 | 10 | 11 | 12 | 13 | 14 | 15 | 16 | 17 | 18 | 19 | 20 | 21 | 22 | 23 | 24 | 25 |

| 26 | 27 | 28 | 29 | 30 | 31 | 32 | 33 | 34 | 35 | 36 | 37 | 38 | 39 | 40 | 41 | 42 | 43 | 44 | 45 | 46 | 47 | 48 | 49 | 50 |

| 51 | 52 | 53 | 54 | 55 | 56 | 57 | 58 | 59 | 60 | 61 | 62 | 63 | 64 | 65 | 66 | 67 | 68 | 69 | 70 | Next >