Part II: Revisiting the "Virgin" Site of Swedish Tavern, page 69
Metal Detecting Old Copper Coins
As I tried to "vacuum" the spot to the last coin before our departure, I managed to unearth a few more copper coins.
Obverse of 1673 1/6 Öre, Carl XI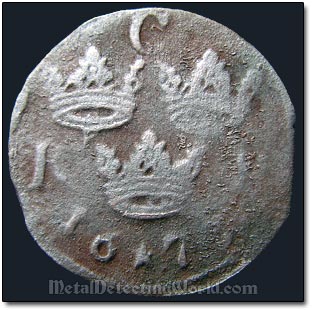 Obverse of 1676 1/6 Öre, Carl XI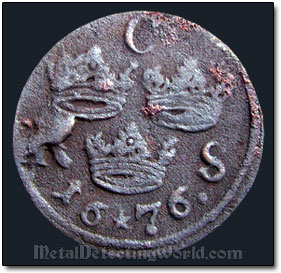 Also I recovered a less common Swedish copper coin - 1 fyrk (1/4 Öre), of Christina's period.
Visible Obverse Design of Uncommon 1653 1/4 Öre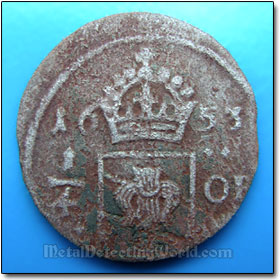 Another Peter I's copper coin was "caught" at last. I had to look its Cyrillic numeral up in the date-conversion table, and determined it to be 1713. Finding this coin concluded my interesting metal detecting day at the Swedish tavern site. Too bad the coin was in poor condition, not worth of taking its picture after cleaning.
Reverse of 1713 Denga, Tsar Peter I The Great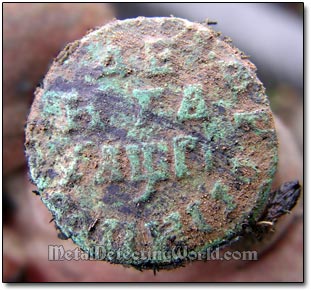 Number of pages:

< Previous | 1 | 2 | 3 | 4 | 5 | 6 | 7 | 8 | 9 | 10 | 11 | 12 | 13 | 14 | 15 | 16 | 17 | 18 | 19 | 20 | 21 | 22 | 23 | 24 | 25 |

| 26 | 27 | 28 | 29 | 30 | 31 | 32 | 33 | 34 | 35 | 36 | 37 | 38 | 39 | 40 | 41 | 42 | 43 | 44 | 45 | 46 | 47 | 48 | 49 | 50 |

| 51 | 52 | 53 | 54 | 55 | 56 | 57 | 58 | 59 | 60 | 61 | 62 | 63 | 64 | 65 | 66 | 67 | 68 | 69 | 70 | Next >