Part I - WW2 Relic Recovery at the Swedish Tavern Site, page 32
German War Artefacts: Aluminum Marked Casing, Rifle Grenade, Canteen Cap
...Most of the WW2 relics cannot be ignored as they are made of the highly conductive metals and, therefore, give out very high-pitched target signals. The flare gun shells made of aluminum are the perfect example.
Aluminum Casing of Flare Gun Round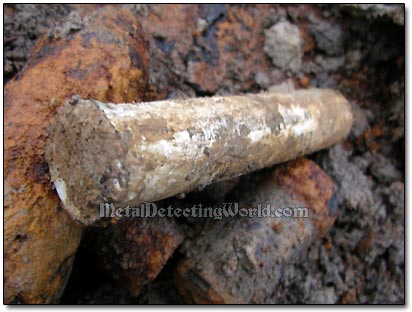 "1943" Indicates When It Was Made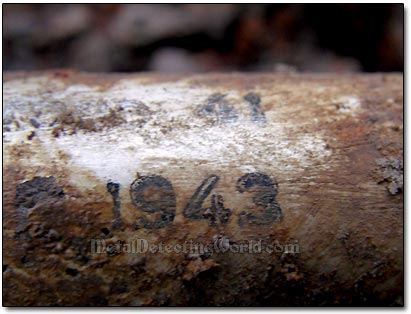 Hoping to find something more unusual than the regular military junk, I kept investigating every signal. And I had to dig up a few dangerous targets like this unfired rifle grenade. At least it had been partially destroyed by corrosion.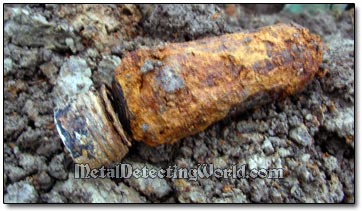 In 1942, an attachable rifle grenade launcher called the Gewehrgranatengerät or Schießbecher (shooting cup) was introduced to the German infantry. The 30mm Schießbecher could be mounted on any Mouser K98k Carbine. The rifle grenade launcher could be used against infantry, fortifications and light armored vehicles up to a range of 280m (306 yd). The grenade propelling cartridges fired a wooden projectile through the barrel, which upon impact automatically primed the rifle grenade.
German Infantry Soldier with Schießbecher Rifle Grenade Launcher in 1943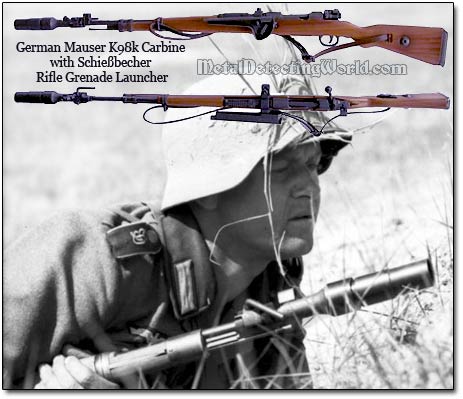 My next WW2 relic find was an aluminum canteen cup, but I was not sure if this was a Red Army type as there were no inscriptions on it.
WW2 Canteen Cup, Possibly Russian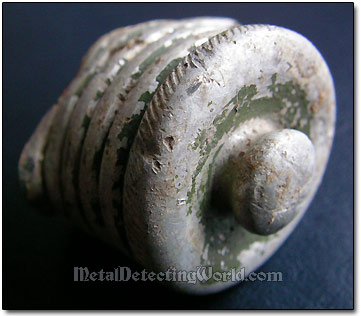 Number of pages: < Previous | 1 | 2 | 3 | 4 | 5 | 6 | 7 | 8 | 9 | 10 | 11 | 12 | 13 | 14 | 15 | 16 | 17 | 18 | 19 | 20 | 21 | 22 | 23 | 24 | 25 |

| 26 | 27 | 28 | 29 | 30 | 31 | 32 | 33 | 34 | 35 | 36 | 37 | 38 | 39 | 40 | 41 | 42 | 43 | 44 | 45 | 46 | 47 | 48 | 49 | 50 |

| 51 | 52 | 53 | 54 | 55 | 56 | 57 | 58 | 59 | 60 | 61 | 62 | 63 | 64 | 65 | 66 | 67 | 68 | 69 | 70 | Next >
Sources: en.wikipedia.org