Part I - Metal Detecting at the Swedish Tavern Site, page 26
Discovery of a Massive Silver Signet Ring, ca. 18th-19th Century
Right next to the hole I had just dug, I received another high pitched tone signal which was emitted by a small bronze key, circa from 16th to 18th century.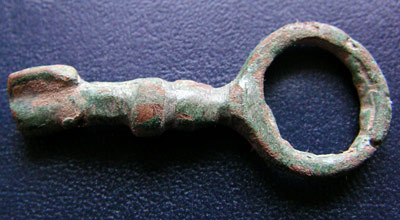 My happy train of thought moved on... Now, with E-Trac, I could expand into the areas which had been searched out by other detectorists unless they got the E-Tracs and would be doing the same. In any case, there would be an enormous scope of action lying ahead of me - plenty of work for a few years to come!.. The train screeched to another stop - I received another signal!
My Coin-Find #6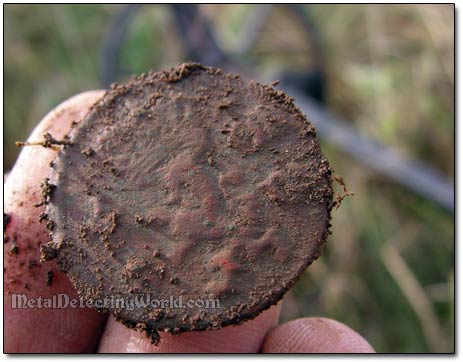 Reverse of 1666 1/6 Öre Coin Recovered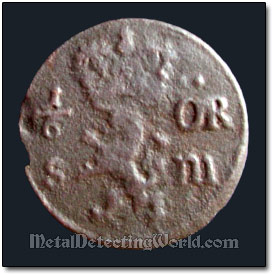 It was time to check on my buddy' progress. Nikolai was searching the spots with thick grass right next to the railroad because anywhere else in the triangle, his DFX was not getting any signals.
The spots lying in close proximity to the railroad (but not too close!) are always difficult to metal detect due to the abundance of iron spikes, bolts, nuts and various larger parts that have been continuously discarded by the maintenance crews for many years.
Nikolai Detecting Near Railroad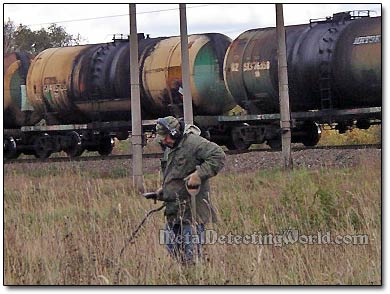 On another hand, such tough spots usually scare away the inexperienced detectorists. Nikolai did not have a choice and had to try his luck. And with his DFX, which was a reason I was not surprised, Nikolai managed to recover a spectacular silver signet-ring with an engraved monogram and floral design! Congrats to Nikolai and White's DFX - well done!
Silver Signet Ring, circa 19th Century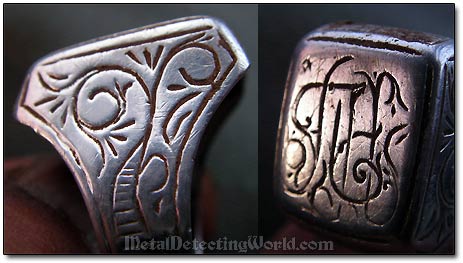 Certainly a Superb Find!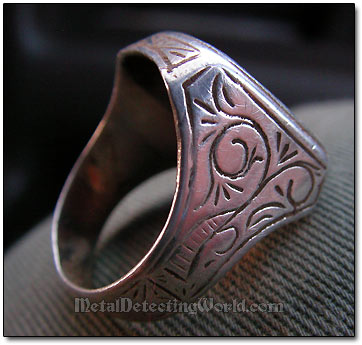 Number of pages: < Previous | 1 | 2 | 3 | 4 | 5 | 6 | 7 | 8 | 9 | 10 | 11 | 12 | 13 | 14 | 15 | 16 | 17 | 18 | 19 | 20 | 21 | 22 | 23 | 24 | 25 |

| 26 | 27 | 28 | 29 | 30 | 31 | 32 | 33 | 34 | 35 | 36 | 37 | 38 | 39 | 40 | 41 | 42 | 43 | 44 | 45 | 46 | 47 | 48 | 49 | 50 |

| 51 | 52 | 53 | 54 | 55 | 56 | 57 | 58 | 59 | 60 | 61 | 62 | 63 | 64 | 65 | 66 | 67 | 68 | 69 | 70 | Next >