Part I - Metal Detecting at the Swedish Tavern Site, page 20
Finding Silver Coin of Swedish King Charles IX (Karl IX)
I set up Iron Mask at -14 on my Explorer and moved onto the spot which had been already pounded by both Nikolai and Bobby. I used one trick which I can share with you. But it works only in one case, similar to this one - when you are the second visitor to the freshly discovered metal detecting location. It is a rare case, of course, but this method almost always would bring you a nice trophy.
Always head to the spot with the highest concentration of dug holes and search every inch in between them! Apparently this spot was initially "hot," and whoever discovered it, he got very excited while digging the first few "keepers." When this happens, a person usually veers off his initial direction of searching and goes zigzagging, thus, missing coins and jewelry here and there, or missing the low-pitched tone signals that might indicate a few valuables such as thin rose gold rings and silver hammered coins.
I knew that both Nikolai and Bobby found one coin each here at this spot. Then they began searching for more coin signals and completely missed one low-pitched tone signal - the "pull-tab" signal that I had been looking for! I carefully dug the dirt plug out, and a small silver coin fell out of it!
My Efforts Were Not Wasted After All!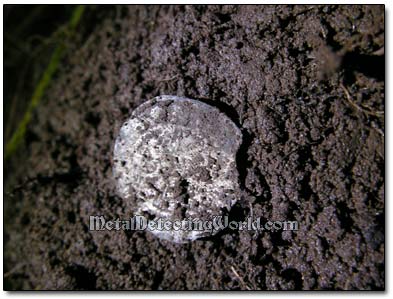 On the coin's obverse, there was a sheaf (bundle of twigs), which I knew, was an emblem of the Swedish Vasa Dynasty. So this silver hammered coin was Swedish as well. The Vasa (Wasa) Dynasty was founded by King Gustavus I of Sweden in 1523. The dynasty acquired its name from the family's coat of arms - the Vasa (a sheaf), and included Gustav I Vasa (Gustav Eriksson), Erik XIV, John III, Sigismund I Vasa, Charles IX, Gustavus II Adolphus, and Christina.
During their reigns, Sweden left the Danish-controlled Kalmar Union and became an independent state, adopted Lutheranism, developed a more complex economy, built a Baltic empire and a place of importance in European affairs, and became increasingly European culturally. The Vasa dynasty ended with Christina's conversion to Catholicism and subsequent giving up her throne. The crown passed to Charles X Gustav (ruled 1654-1660), thus the Pfalz Dynasty began to rule Sweden.
Later on I easily identified this coin as a silver 1609 1 Öre minted in Stockholm during the reign of King Karl IX of Sweden (1604-1611).
Silver 1609 1 Öre, King Karl IX of Sweden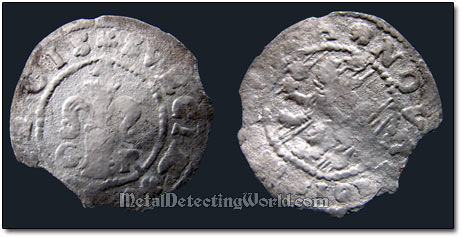 OBVERSE: Sheaf separating letters C.R. in circle and date 1609, legend: REGIS*SVECIA*
REVERSE: Lion rampant, legend: MONETA*NOVA* 1ör
COIN DIAMETER: 21mm
COIN WEIGHT: 1.62 gram
SILVER CONTENT: Ag 250/1000 (.250)
MINT: Stockholm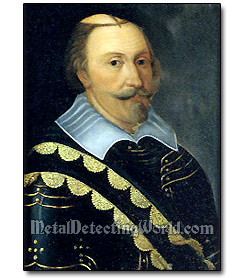 Charles IX (Karl IX) - Brief Historical Facts:
When the Catholic King Sigismund I Vasa (1592-1599) fails to hold the Swedish throne, his uncle lead a rebellion against him and became a king in his place as Charles IX.
Charles effectively ruled as a regent from 1599 to 1604 and officially as a king from 1604 until his death in 1611. To consolidate his power, Charles had most of his opponents executed (Linköping Bloodbath, 1600) and ruled personally or through favorites.
Charles IX reaffirmed Lutheranism as the national religion and pursued an aggressive foreign policy leading to decades of war between Poland and Sweden starting in 1605. Charles's short reign was one of uninterrupted warfare.
The hostility of Poland and the break up of Russia involved him in two overseas contests for the possession of Livonia and Ingria. His pretensions to claim Lappland brought upon him a war with Denmark in the last year of his reign. Compared with his foreign policy, the domestic policy of Charles IX was comparatively unimportant. It aimed at confirming and supplementing what had already been done during his regency.
...Now I had to find my second good target before leaving the place. I remained at the "hot" spot, and my Explorer "picked up" a questionable signal sounding with a bit of "copper" at the end. This signal was produced by a copper relic, initially silver plated, which was partially masked by a rusty nail.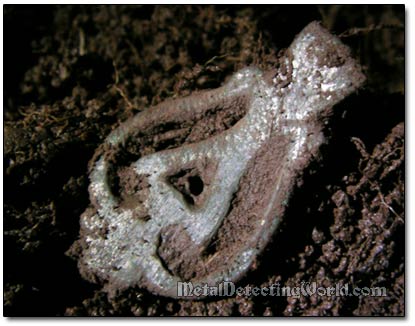 Being 4cm (1.5") long, the object had a rivet at the back and looked like some decorative strap end of an open-work design or a mount for harness. I hope to correctly ID and date this relic soon.
Front and Back of Copper Relic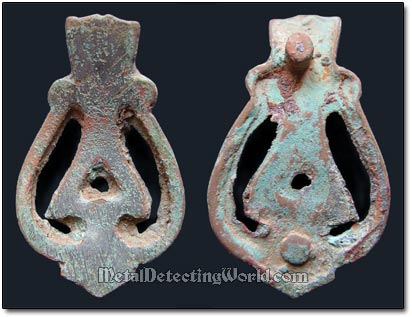 That was it for the first visit to this wonderful site. Our results of the day were: Minelab Explorer II - 9 coins, White's DFX - 5 coins, Tesoro Cortes - 2 coins. I was happy for our friend Bobby who did very well for the first time metal detecting and had some cool trophies to take back to Greece.
That was it for my Minelab Explorer II. No, nothing was wrong with it! My good old Explorer was just retiring after I had used it intensely for five years, and this superb machine had delivered a ton of metal detecting fun to me! Now Explorer was making room for a brand new Minelab E-Trac which I was going to field-test on our next visit to this site of a Swedish krog.
Number of pages: < Previous | 1 | 2 | 3 | 4 | 5 | 6 | 7 | 8 | 9 | 10 | 11 | 12 | 13 | 14 | 15 | 16 | 17 | 18 | 19 | 20 | 21 | 22 | 23 | 24 | 25 |

| 26 | 27 | 28 | 29 | 30 | 31 | 32 | 33 | 34 | 35 | 36 | 37 | 38 | 39 | 40 | 41 | 42 | 43 | 44 | 45 | 46 | 47 | 48 | 49 | 50 |

| 51 | 52 | 53 | 54 | 55 | 56 | 57 | 58 | 59 | 60 | 61 | 62 | 63 | 64 | 65 | 66 | 67 | 68 | 69 | 70 | Next >
Sources: Heinz Fengler, Numismatik, Transpress Lexikon, 1982; Tonkin A., Myntboken 2003, 2002; en.wikipedia.org