Metal Detecting In Pskov Region, Russia (Story 8), page 1
Treasure Hunting in Ancient Russian Lands
In August I traveled to the Pskov Region, Russia. My fellow treasure hunter Pavel invited me to come over and metal detect with him in the district of Velikie Luki where he grew up. The district is located 400 miles South of St. Petersburg, near the border with Belorussia.
General Map Of Russia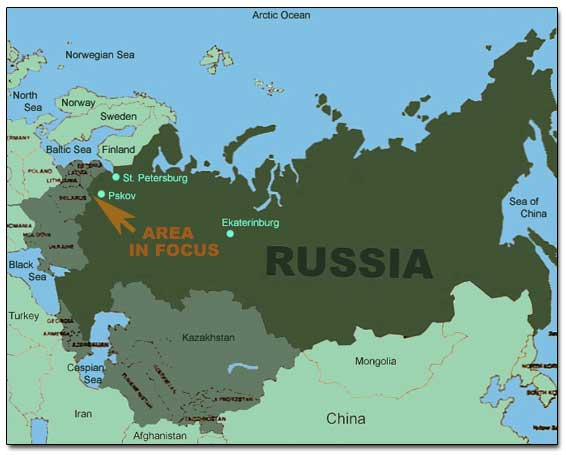 Because of the highest-grown grass, hottest temperatures, and voracious mosquitoes, August is always the worst month of the metal detecting season. But for Pavel who resides and works in Portugal, August was the only time which he could take for his vacation.
He was lucky to be given a whole month to visit his home town and metal detect in his homeland. I myself was excited to visit a historical area, to which I had never been before, and find a few good locations for our future treasure hunting expeditions.
The city of Velikie Luki was founded in 12th century. It is situated on the banks of the Lovat' river that used to be a Great Trade Route from the Black Sea to the North Sea. Because of its unique location, both a crossroad of two major historical pathways, from West to East and from North to South, and a border line position, it was attacked, taken, and burned down by Lithuanian, Polish, and even Russian Armies numerous times throughout its dramatic history.
The District of Velikie Luki had suffered the same fate. Many of its villages never recovered from the bloody and devastating military crusades that continued up to the 20th century. The WW2 took the highest toll on the area.
It took me 12 hours to get to the city of Velikie Luki by train from St. Petersburg. Pavel met me at the train station early in the morning. We dropped my baggage at his friend Andrei's apartment, and went sightseeing around the city.
I expected to see a lot of history but surprisingly there was not much to look at on the city streets. Even a 12th century fortress was missing on the river bank; just some earthworks indicated where the fortress used to stand. As I found out, the 12th century structure was destroyed by German artillery during WW2. At last, we went to the small park and posed for a picture in front of the bust of A.S. Pushkin, a famous Russian poet.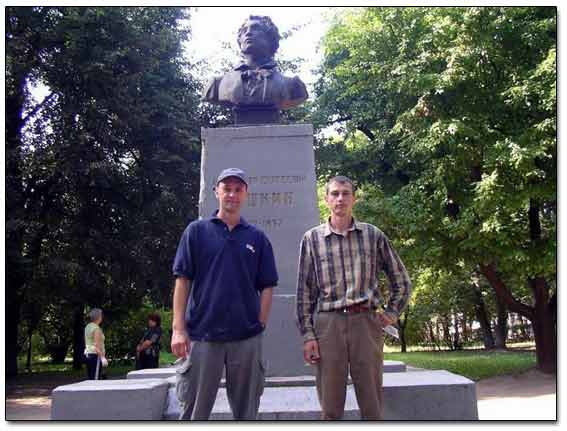 Unlike the city of Pskov where some early Russian churches and fortresses had been repaired and preserved (unfortunately, many historical sites in Pskov disappeared under modern construction), the city of Velikie Luki had only one restored historical structure, a church, and looked just like most of the provincial cities in Russia.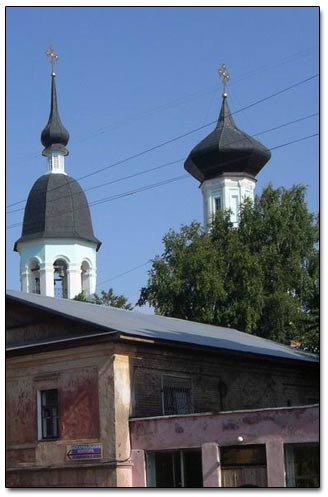 Number of pages: | 1 | 2 | 3 | 4 | 5 | 6 | 7 | 8 | 9 | 10 | 11 | 12 | 13 | 14 | 15 | 16 | Next >