Part I - Metal Detecting at the Swedish Tavern Site, page 28
Digging Up Swedish Halvöring and Russian Denga Coins
While scanning the ground for the next "interesting" signal, I let the "thinking locomotive" gain a full speed. ...If to assume that this advanced E-Trac has its limits, and I'm sure it does, further research and experimentation will be conducted by the Minelab specialists to improve the current technology, i.e. to increase the E-Trac's capabilities and... My E-Trac received another signal!
My Coin-Find #8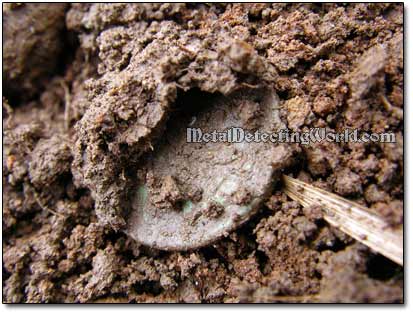 On the first visit here, I was wondering why there were no Russian coins lost (and found) at this location. I actually visualized a moment of recovering at least a Russian 1 Denga coin. So now it was a moment of materialization of my thought - the two-headed Imperial Russian eagle was "looking" at me from the coin's obverse!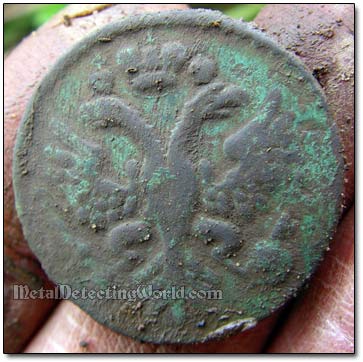 Russian 1730 1 Denga, minted under the rule of Empress Anna of Russia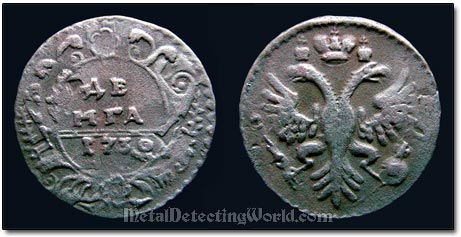 OBVERSE: Eagle in plain field
REVERSE: Value DENGA and date 1730 on cartouche;
EDGE: Wire-gauzed
COIN DIAMETER: 25mm
COIN WEIGHT: 8,19g
COIN METAL: Copper (Cu)
MINTS: Ekaterinburg and Moscow
I instantly remembered which coin I had been wishing to find for a while. At the majority of metal detecting sites in this region, so far we had found mostly the Russian coins, with a few Swedish copper coins in between. And I always had one question in mind: why would not we find the silver Swedish coins, not hammered, but the minted ones of the late 17th-early 18th centuries?
I had not thought of one particular coin. I only pictured the moment of its recovery and approximately its age - 300 years old. I guessed now I should picture it since this site perfectly qualified for containing such a coin.
It was not the first time my thought materialized. Many times before, I badly wanted to find a certain coin - this was a necessary condition: having a TRUE desire for an object (though it does not come easily!), then I would visualize the moment of that coin's discovery - a second necessary condition, and in a short while, "voilà!" - the coin was lying in dirt in front of me!.. Now, oh well, just a copper coin showed up in the mucky dirt.
My Coin-Find #9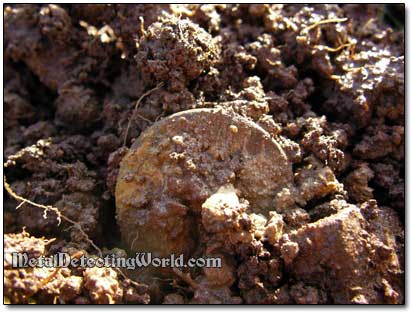 Swedish 1666 1/6 Öre Coin after Being Washed in a Puddle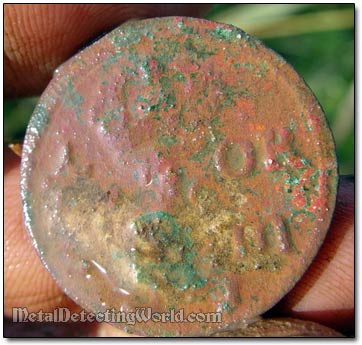 Number of pages: < Previous | 1 | 2 | 3 | 4 | 5 | 6 | 7 | 8 | 9 | 10 | 11 | 12 | 13 | 14 | 15 | 16 | 17 | 18 | 19 | 20 | 21 | 22 | 23 | 24 | 25 |

| 26 | 27 | 28 | 29 | 30 | 31 | 32 | 33 | 34 | 35 | 36 | 37 | 38 | 39 | 40 | 41 | 42 | 43 | 44 | 45 | 46 | 47 | 48 | 49 | 50 |

| 51 | 52 | 53 | 54 | 55 | 56 | 57 | 58 | 59 | 60 | 61 | 62 | 63 | 64 | 65 | 66 | 67 | 68 | 69 | 70 | Next >