Part II: Revisiting the "Virgin" Site of Swedish Tavern, page 58
Detecting Silver & Copper Coins of King Charles XI of Sweden
Finding a silver coin certainly boosted my morale, but now I knew that the ratio "# of Dug Copper Coins : 1 Dug Silver Coin" was not in my favor, so I mentally mobilized myself to dig up more common coppers. And they were readily available!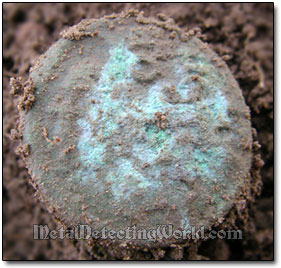 ...I know it would sound silly if I would say, "I want to find the way of having my thought of finding a silver coin make it all the way into reality." However, the more I analyzed the process of materializing what I desire and imagine (not to be confused with imagining a brand new car and then it would instantly appear in front of you), the more interesting conclusions I came to.
One, for example, is that there must be a method of materialization of thought, which probably was similar to dowsing. Everybody knows why the L-rods move, but still there is no explanation to what causes the human muscles to contract when a specific question is placed in mind. This is still beyond modern science and will be that way until an adequate instrument for registering and measuring some sort of bio-electromagnetic signals or quanta of energy of unknown type is invented.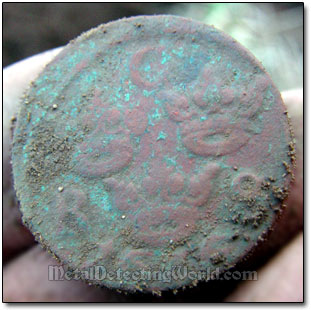 So, for now, everything comes to intuition. Many times I would find a nice silver coin right after...
Suddenly I received a signal! I had been waiting for it! I knew it was not a bullet, but sounded a little strange. When I saw the coin, I knew why it did not give out a "curvilinear" signal.
A Silver Coin Fragment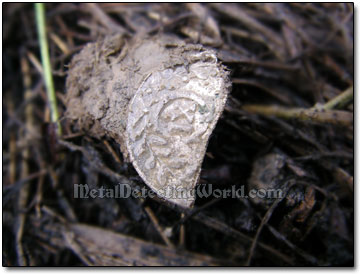 A monogram CXI on obverse placed the coin in the same time period - the reign of the king Charles XI (Karl XI), as of my previous silver find. I wondered if I could determine the exact date of this coin fragment.
Monograms of King Charles XI (Carl XI)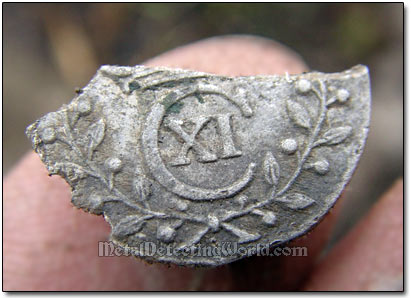 Unfortunately the coin date was not present on this "half" of the coin. But at least I could determine that it was an original Swedish 1 Öre minted in Stockholm between 1681 and 1685.
Fragment of Swedish 1681-1685 1 Öre, King Carl XI

OBVERSE should show: Crowned CXI monogram, wreath around
REVERSE should show: 3 crowns, date, value, mint mark
Weight: 1.23g
Diameter: 17.5-18mm
Silver Content: 0.313
Mint: Stockholm
Number of pages:

< Previous | 1 | 2 | 3 | 4 | 5 | 6 | 7 | 8 | 9 | 10 | 11 | 12 | 13 | 14 | 15 | 16 | 17 | 18 | 19 | 20 | 21 | 22 | 23 | 24 | 25 |

| 26 | 27 | 28 | 29 | 30 | 31 | 32 | 33 | 34 | 35 | 36 | 37 | 38 | 39 | 40 | 41 | 42 | 43 | 44 | 45 | 46 | 47 | 48 | 49 | 50 |

| 51 | 52 | 53 | 54 | 55 | 56 | 57 | 58 | 59 | 60 | 61 | 62 | 63 | 64 | 65 | 66 | 67 | 68 | 69 | 70 | Next >