Part I - Metal Detecting at the Swedish Tavern Site, page 4
Novgorodian Ingermanland (Ingria) and Its Fortified Centers in Medieval Times
Because Ingrermanland was situated near the border, Novgorod's belligerent neighbors – the Livonian Order and the kingdom of Sweden laid claim on it. Novgorod struggled for centuries against Swedish, Danish, and German crusaders. Novgorod had to go to war 26 times with Sweden and 11 times with the Teutonic Knights of Livonian Order.
Teutonic Knights of Livonian Order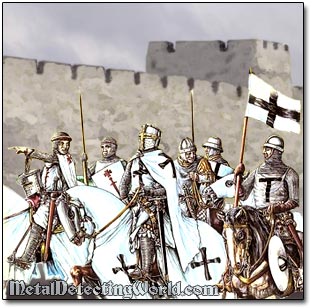 The oldest and still standing fortress in the western Ingermanland is the fortress Koporye, known as Caporie, built by the Livonian Order on the edge of the Izhora Plateau in 1240.
Ruins of Koporye's Northern Tower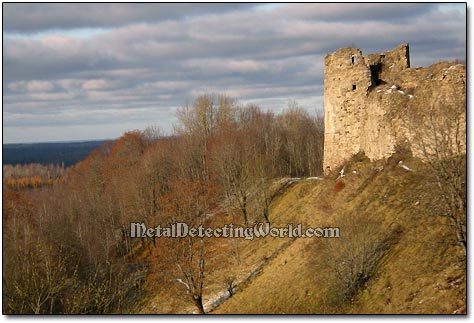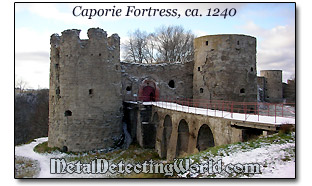 Initially it was a wooden fort that overlooked the Koporye Bay, a 12 km-long bay on the southern coast of the Gulf of Finland. In 1241, the fort was destroyed by Alexander Nevsky - the Grand Prince of Novgorod, and then rebuilt in stone by Alexander's son in 1280. From 1297, for the next 300 years, the Caporie stronghold survived numerous attacks during the Swedish-Novgorodian Wars.
During the Time of Troubles (1598-1613) Koporye was attacked by 2,500 Swedes, ten times more than the defenders. The Russian garrison had to surrender, and Caporie remained Swedish until 1703. Nowadays, even being in its ruined state, the medieval fortress is still impressive.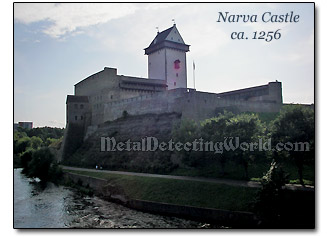 In 1346, the Livonian Order established a second stronghold - the Herman Castle, which they bought from the Danes in the Livonian (now Estonian) town of Narva. The castle remained German Teutonic until 1558 when the Russians captured Narva.
For several centuries Novgorod, first on its own and later as a part of Muscovite Russia (the successor to the Principality of Moscow and the predecessor of the Tsardom of Russia), successfully repelled attacks of the Livonian knights, from time to time countering them with retaliatory raids. It was one of these raids that put an end to the Livonian Order, that was destroyed in 1559 by troops of Ivan the Terrible.
In 1581 the Swedes took the Narva Castle away from the Russians. The Swedes invested enormous resources in fortification of the Narva citadel, however, its defensive structures were never up to date. In 1704, the extremely powerful bastion system established but not finished by the Swedes was seized by the Russian troops of Peter The Great.
Number of pages:

< Previous | 1 | 2 | 3 | 4 | 5 | 6 | 7 | 8 | 9 | 10 | 11 | 12 | 13 | 14 | 15 | 16 | 17 | 18 | 19 | 20 | 21 | 22 | 23 | 24 | 25 |

| 26 | 27 | 28 | 29 | 30 | 31 | 32 | 33 | 34 | 35 | 36 | 37 | 38 | 39 | 40 | 41 | 42 | 43 | 44 | 45 | 46 | 47 | 48 | 49 | 50 |

| 51 | 52 | 53 | 54 | 55 | 56 | 57 | 58 | 59 | 60 | 61 | 62 | 63 | 64 | 65 | 66 | 67 | 68 | 69 | 70 | Next >
Sources: en.wikipedia.org