Part II: Revisiting the "Virgin" Site of Swedish Tavern, page 57
Metal Detecting Old Silver - Livonian Coin
The only reason I did not ignore these bullet-signals was that many times I had seen detectorists leaving a few nice silver coins behind because the coins were thought to be the bullets and ignored. Yes, digging the unfired rounds requires lots of effort, time and patience, but if one is persistent, the hard work is always compensated with nice rewards. This was my case this time.
Visible Silver Edge of a Thin Coin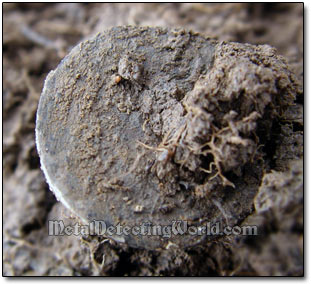 At the sites infested with WW2 bullets, I always follow my "golden rule": if you get a dual- or triple-tone signal, investigate it! By seeing the coin's displaced design through dirt, I could tell that it was a silver coin of the period, and someone lost this specimen for me over 300 years ago.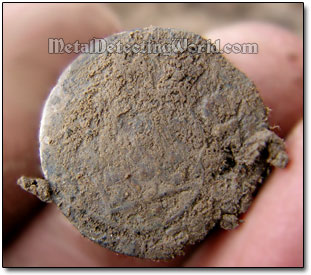 Finally after all, the coin date 1666 was pleasant to look at. I am sure it was a pleasant looking coin back in 1666 as well just for its purchasing power: 1 Öre could buy you 40 liters (10.5 gallons) of light beer back then.
Silver 1666 1 Öre, King Karl XI of Sweden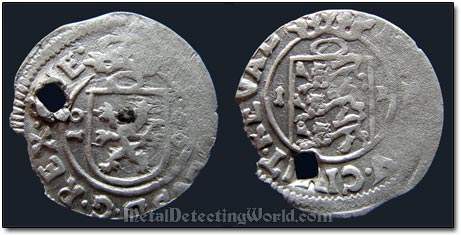 OBVERSE: Lion rampant in crowned shield dividing date 16-66 and legend: CAROLUS.D:G.REX.SVE.
REVERSE: Reval coat of arms (three leopards passant) in crowned shield dividing value 1-R and legend: MON.NOV.CIVIT.REVAL.
Weight: 1.23g
Diameter: 18-19mm
Silver Content: 0.313
Mint: Reval (Tallinn - important seaport and capital of modern Estonia)
1 Öre Denomination: Brief History
The first 1 Öre coin entered the Swedish monetary system during the reign of the king Gustav Vasa (1521-1560) in 1522. The coin was minted at five Sweden mints: Arboga, Uppsala, Åbo, Västerås, and Stockholm. Initially 1 Öre equalled 1/8 Mark - the main coin (until the end of 16th century), and weighed 4.39g (silver fineness 0.469) . When Daler (Riksdaler) replaced Mark, 1 Daler = 4 Marks = 32 Öre = 32 Lübeck Schillings = 64 Dutch Skillings.
In 1625 the first copper 1 Öre was minted and followed by denominations of 2, 1/2 and 1/4 Öre. When the value of copper coins decreased later, the Swedish monetary system had both silver Daler (Silvermynt - SM) and copper Daler (Kopparmynt - KM), and their ratio was 1 Silvermynt : 2 Kopparmynt. By 1665 the ratio had become 1 SM : 3 KM.
The Öre was replaced with Schilling in 1776, but returned in 1855 as 1/100 of the Riksdaler. All Öre coins were discontinued in Sweden on September 30, 2010. Before switching to Euro, Norway and Denmark also used Öre as their currency: 1 Danish Krone (literally means "crown") = 100 Øre, 1 Norwegian Krone = 100 Øre.
For a long time, I could not come up with one comprehensible explanation for the holes in silver coins until I came across a Land Book from 1500s. In the book I read that silver coins were used as an honorary decoration on notable ceremonies like royal weddings. Also brave soldiers were given such coins as the war decorations after the victorious battles. Thus the holed silver coins could be the earliest versions of the Warrior Merit Medals. The holed silver and gold coins were sewn to hats, caps and sleeves.
I ran to Irina to show her my find and share my excitement. She "wowed" the coin when she saw it, and we went to celebrate my discovery with tea. Again, I offered Irina to try detecting at the hot pocket. This time she explained to me that she did not want to be guided to any cool spot because she wished to discover it herself. Then, no time wasted (no rolling on bare ground either), we returned to our shovels.
Number of pages:

< Previous | 1 | 2 | 3 | 4 | 5 | 6 | 7 | 8 | 9 | 10 | 11 | 12 | 13 | 14 | 15 | 16 | 17 | 18 | 19 | 20 | 21 | 22 | 23 | 24 | 25 |

| 26 | 27 | 28 | 29 | 30 | 31 | 32 | 33 | 34 | 35 | 36 | 37 | 38 | 39 | 40 | 41 | 42 | 43 | 44 | 45 | 46 | 47 | 48 | 49 | 50 |

| 51 | 52 | 53 | 54 | 55 | 56 | 57 | 58 | 59 | 60 | 61 | 62 | 63 | 64 | 65 | 66 | 67 | 68 | 69 | 70 | Next >