Metal Detecting in Siberia (Story 10), page 1
Treasure Hunting Visit to Site Kokorino
Fragment of Topographical Map of Lake Baikal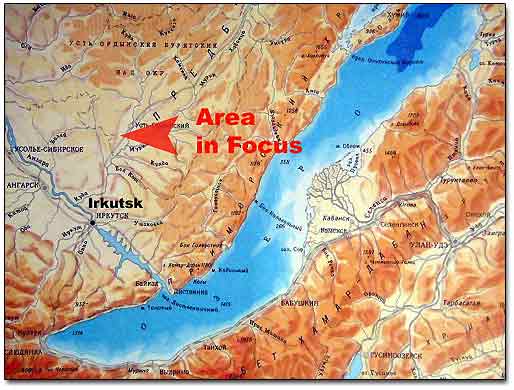 It was a typical Siberian summer day - hot and sunny. Rudolf picked me up with one of his 4x4 treasure hunting vehicles and we went to meet with a reporter and her crew from the local TV News channel. On the way there, Rudolf told me that the reporter wanted to make a small episode on metal detecting and ask me, a treasure hunter from the West, a few questions. Rudolf had to return her favor and this would be the best opportunity to do so. My responsibility of being an ambassador of the hobby took over my excitement of digging the 18th century coins without being filmed, so I agreed to his plan.
Getting Out of the City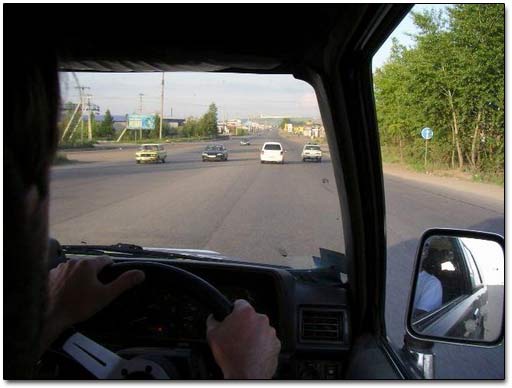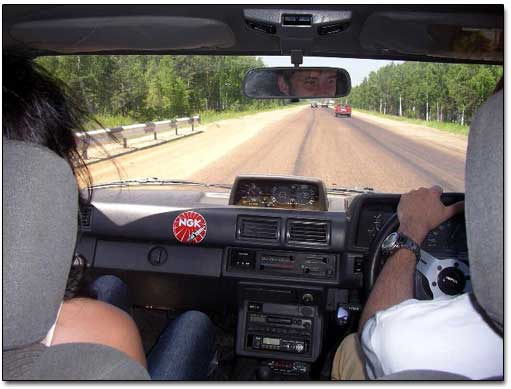 The trip to the area of our interest did not take long, and soon we arrived to the village of Kokorino in Irkutsk region where we were meeting the film crew at the local grocery store called "Zenith".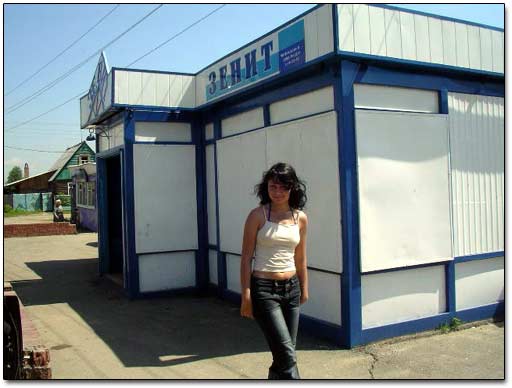 They arrived shortly after we pulled into the store's parking lot. The guys were happy to be out of the city on a hot day.
Dima, a Camera Man, and Kolya, a Sound Technician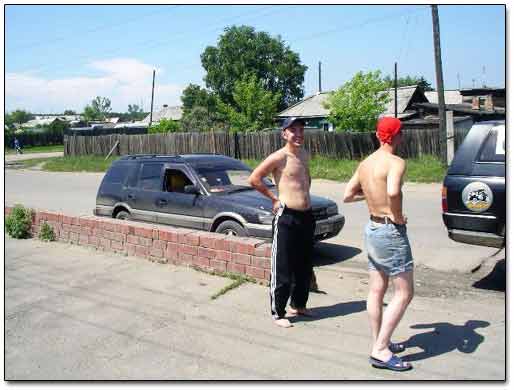 Then, a female reporter named Svetlana got out of the car and walked to our jeep. With enthusiasm, she came to my rolled down window, looked at me, looked at Rudolf, and then, with a little disappointment in her voice, asked, "Where is an American?" Looking at grinning Rudolf, I said in my native Russian, "Here I am!" Svetlana showed a little smirk on her blushing face but did not lose her professional composure. She simply said, "Velkome!" in English.:)
Soon I understood why Rudolf wanted to participate in filming activities more than in treasure hunting. Of course, he wanted to advertise both the hobby and his business of selling Minelab metal detectors. But there was another reason for him in being not so eager to metal detect.
The site, a former location of the 18th century village Kokorino, had recently been a place where 300 treasure hunters - all members of Irkutsk Metal Detecting Club, held their annual Treasure Hunting Competition Hunt. Prior to that event, the site had been hit by many detectorists for three years! To "First Relic Find" on Page 2
Site of the 18th Century Village
Number of pages: | 1 | 2 | 3 | 4 | 5 | 6 | 7 | 8 | 9 | 10 | 11 | 12 | 13 | 14 | Next >