Metal Detecting at Kokorino Village Site in Siberia (Story 10), page 14
Finds of One Treasure Hunting Day
At that point, the daylight was out, it was getting dark quickly, and Sergei suggested to hunt until next coin was found. I did not mind to hunt longer as I was prepared for night metal detecting and put my headlamp on. It did not take me long to recover my next and last coin of the day.
Obverse of 1838 2 Kopeks Coin (Diameter 29 mm)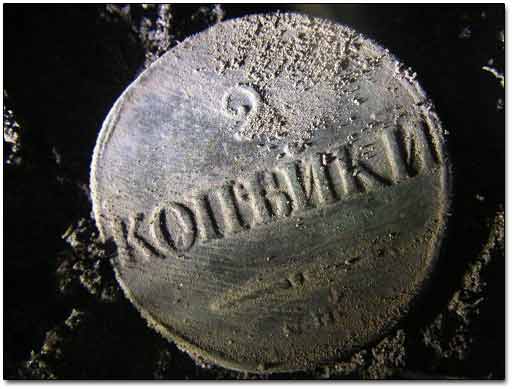 Coin's Reverse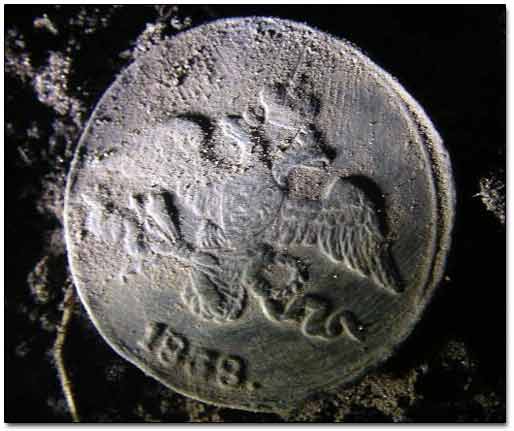 I still could not believe how many coins were left behind by numerous metaldetectorists who had been visiting the site for three years. But who can imagine how many coins were found at this location in the begining! No doubt, there were still many coins remaining in that field and waiting to be discovered by the most advanced treasure hunters.
Sergei unearthed a couple of coins dated to the 19th century, but he could not believe how many coins I had found since he arrived. He was pleased that my program worked for him as well. He even called up his treasure hunting buddy and told him about it. I was glad that now more people would finally switch from Factory Preset Programs to the "Proved-To-Be-Productive" ones.
Second Group of Coins I Had Recovered Since the Moment of Sergei's Arrival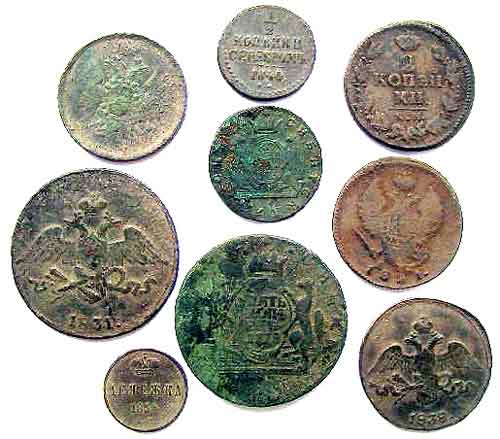 It was truly another eventful and successful treasure hunting day in Siberia for me. Once again, I proved that no site could be "hunted out" completely, no matter if everybody would say so. I felt satisfied and pleasantly tired. Too bad, I missed that episode on metal detecting, with me in it, on the evening news. Oh well, maybe next time.
Happy Hunting!
All My Finds On That Day (Most of Iron Targets and Other Insignificant Items Excluded)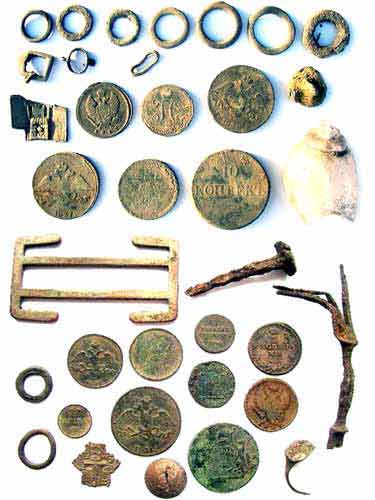 Number of pages: < Previous | 1 | 2 | 3 | 4 | 5 | 6 | 7 | 8 | 9 | 10 | 11 | 12 | 13 | 14 |
Trip To Siberia Page | Detecting In Russia page | All My Stories Directory | MetalDetectingWorld Home