Treasure Hunting with Rodney (Story 7) - Visiting Schoharie Aqueduct
As the Erie Canal was being enlarged, plans were also made to replace the original crossing of the Schoharie Creek by building an aqueduct. The aqueduct would carry the canal over the creek and thus avoid the problems encountered when the creek was flooding.
The Schoharie Creek Aqueduct was built downstream from the original crossing, and a new section of canal dug to meet up with it. The aqueduct is why there are two "old Erie Canals" at Schoharie Crossing: the original Erie from the 1820s, and the Enlarged Erie from the 1830s.

The remains of the Schoharie Aqueduct is a major historical landmark in the area
A Preserved Portion of Aqueduct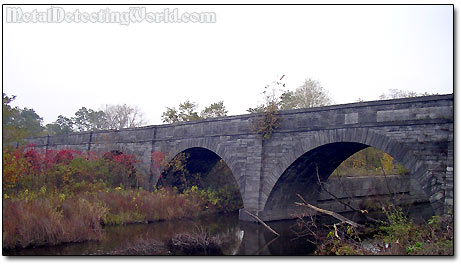 An Impressive Structure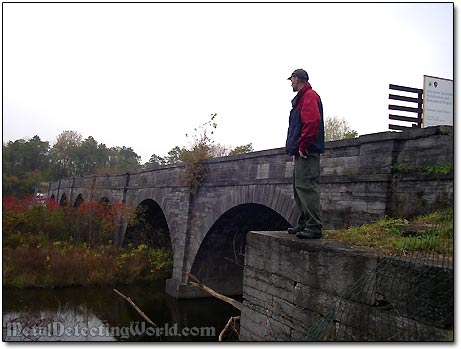 Schoharie Aqueduct Stabilization and Restoration Project Sign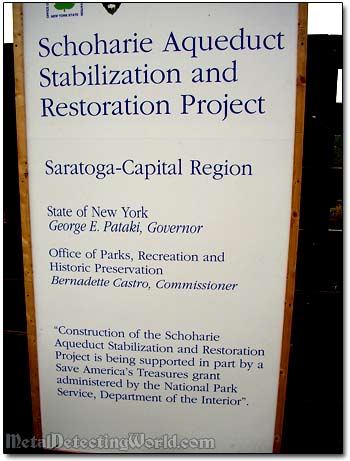 Number of pages: < Previous | 1 | 2 | 3 | 4 | 5 | 6 | 7 | 8 | 9 | 10 | 11 | 12 | 13 | 14 | 15 | 16 | 17 | 18 | 19 | 20 | 21 | 22 |

| 23 | 24 | 25 | 26 | 27 | 28 | 29 | 30 | 31 | 32 | 33 | 34 | 35 | 36 | 37 | 38 | 39 | 40 | 41 | 42 | 43 | Next >