Treasure Hunting with Rodney (Story 7)
When Rodney turned the "round metallic object" over, we could not believe our eyes. But it was a disappointment. The good luck only went by Rodney: he held a shankless button in his hand. At least, the button indicated the age of our hunt site, the late 1700s.
Hessian Button, circa 18th Century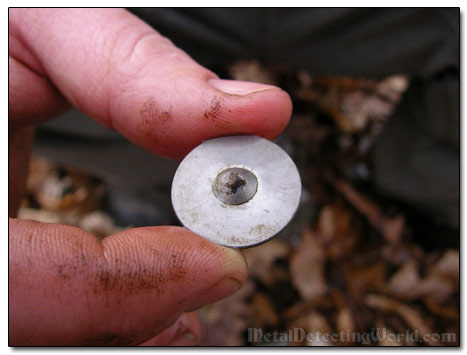 Sobered up, we went back to our business and dealt with either the absence of good signals or the presence of unwanted junk.
Digging Up A Rusty Piece of Sheet Iron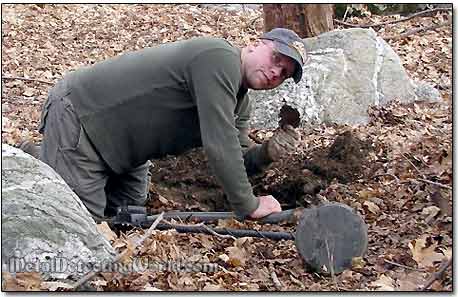 I took a short cigarette break to admire the moss taking over the quartz stones.
Green On White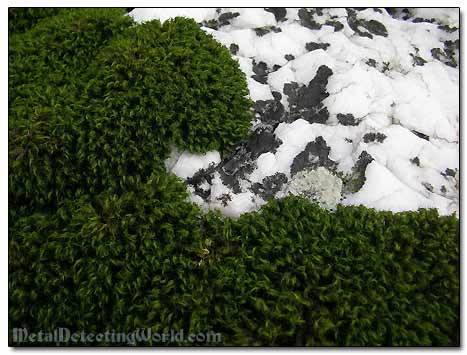 Then Rodney got lucky again and received a solid "copper" signal which turned out to be a nice looking (with rich green patina) round piece of a quarter size. An intricate rhomboid pattern of design was visible even through the dirt.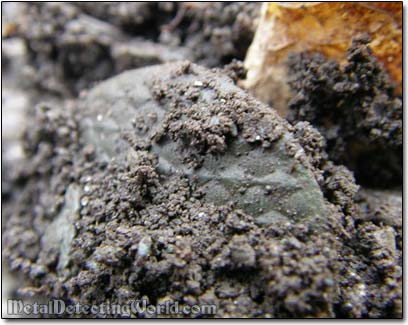 A Really Nice Coat Button with Shank and "Double Gilt" Inscription on Back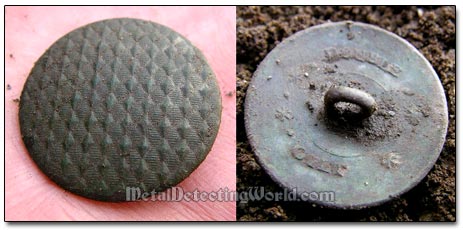 Number of pages: < Previous | 1 | 2 | 3 | 4 | 5 | 6 | 7 | 8 | 9 | 10 | 11 | 12 | 13 | 14 | 15 | 16 | 17 | 18 | 19 | 20 | 21 | 22 |

| 23 | 24 | 25 | 26 | 27 | 28 | 29 | 30 | 31 | 32 | 33 | 34 | 35 | 36 | 37 | 38 | 39 | 40 | 41 | 42 | 43 | Next >