Treasure Hunting with Rodney In Central New York (Story 7)
On the next day, Charlie could not come metal detecting with us so he replaced himself with his brother Chad. We were on the way to a great site where there was a large cellar hole, a pond and a small apple orchard. The most important thing was that we had a permission to hunt that spot.
But, first, we had to make a quick stop at the farm of one of Rodney's acquaintance, so Rodney could talk to him about something. As it happens sometimes, once the metal detecting is mentioned in the conversation with the locals, people start recalling whatever they heard or read about local places that have some historical significance and should be checked with metal detectors.
The farmer told Rodney that there was a skirmish in the field (behind the guys on the picture below), which he also owned, during the Revolutionary War. He said, "On the wooded knoll next to it, that was where the attackers were hiding." The farmer suggested that we should metal detect that site and granted us his permission! The site was just around the road bend, so we, all happy and excited, thanked the farmer and drove to the field right away.
Rodney and Chad Before the Hunt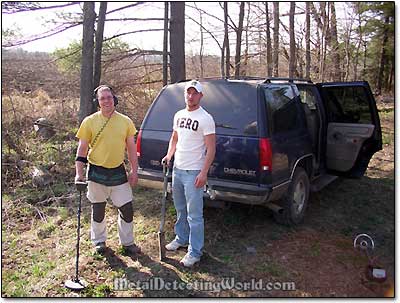 Fantasizing about digging up muskets, bayonets and a couple of George Washington inauguration buttons, Rodney and Chad rushed to the freshly plowed field. I chose to take it easy this time and began scanning the dirt road that skirted the wooded hill.
Looking Back at Rodney's SUV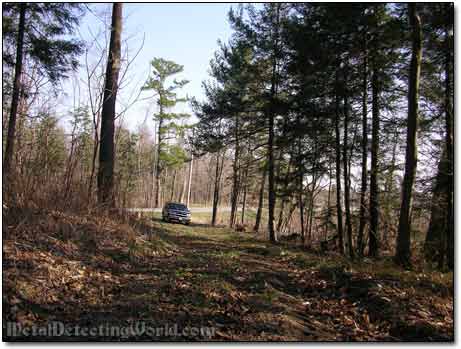 I was hoping to find at least a few musket balls.
Looking Forward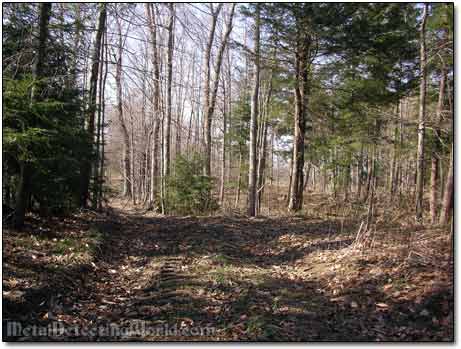 First, I received a few signals of the "gold ring" type which produced old pull-tabs. And then, unexpectedly, I got a signal that I had not heard since last metal detecting season - a "silver coin" signal! Literally my Tesoro Cortes woke me up from my thoughts by sending a distinctive "bang" into my headphones! (This is what I love about Tesoro - when it registers a coin, it gives you a signal of characteristic sound that cannot be confused with other good signals, even though Tesoro Cortes does not have the Tone ID feature.) And there it was, a silver coin, dug up from only 3 inches deep!
Silver Coin Laying in Dirt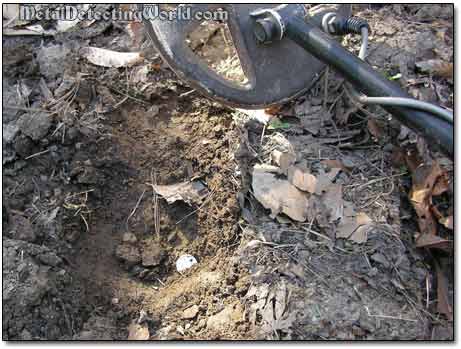 Number of pages: < Previous | 1 | 2 | 3 | 4 | 5 | 6 | 7 | 8 | 9 | 10 | 11 | 12 | 13 | 14 | 15 | 16 | 17 | 18 | 19 | 20 | 21 | 22 |

| 23 | 24 | 25 | 26 | 27 | 28 | 29 | 30 | 31 | 32 | 33 | 34 | 35 | 36 | 37 | 38 | 39 | 40 | 41 | 42 | 43 | Next >