Visiting Yaroslavl - Metal Detecting in Central Russia (Story 16)
In the 14th century, the city became the epicenter of many events in Russian history. In 1380 Yaroslavl troops took part in the Battle of Kulikovo, which terminated the yoke of Tartars and Mongols.
Battle on the Kulikovo Field (in Tula Region) on September 8, 1380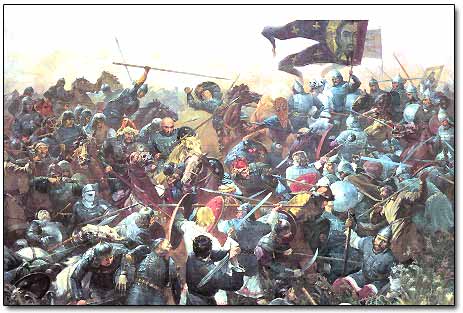 The Defense Tower of Spassky-Preobrazhensky Monastery, ca. 16th Century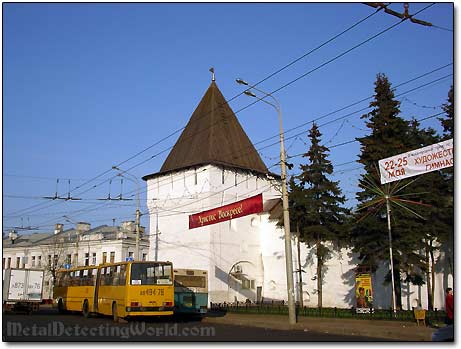 The 17th century, the "Golden Age" of Yaroslavl, was the period of rapid growth of economy and culture - the city reached its fullest flourishing. The famous Yaroslavl school of icon painting was founded, and one-sixth of Russia's richest merchants lived in the city in the late 1700s.
After great fire of 1658, the city's wonderful churches and monasteries with their bright decoration and frescoes were built and formed a great architectural temple ensemble which is a World Heritage Site now. However, two world-famous monuments did not escape the demolition by bolsheviks - Uspensky cathedral church and building of the Demidov's Lyceum, key elements of the city's architectural ensemble.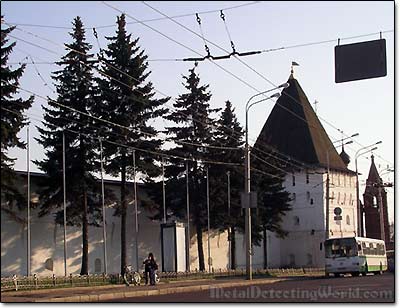 Names of many famous people are connected with Yaroslavl. The famous Russian poet Nikolai Nekrasov and the first woman-astronaut in the world Valentina Tereshkova are among them.
One of Many Small Temples with Golden Onion-Dome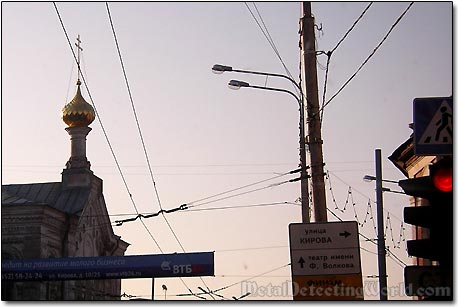 Number of pages: < Previous | 1 | 2 | 3 | 4 | 5 | 6 | 7 | 8 | 9 | 10 | 11 | 12 | 13 | 14 | 15 | 16 | 17 | 18 | 19 | 20 | 21 | 22 |

| 23 | 24 | 25 | 26 | 27 | 28 | 29 | 30 | 31 | 32 | 33 | 34 | 35 | 36 | 37 | 38 | 39 | 40 | 41 | 42 | 43 | 44 | 45 | Next >
source: Geographical, Historical and Socioeconomic Atlas of Russia, Moscow, 1989