Off-Road Vehicles for Treasure Hunting & Metal Detecting
Back at the camp, people were having lunch and discussing the results of the first hunt.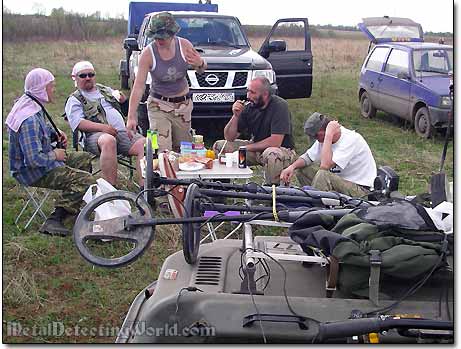 Among all Jeeps and 4-wheel-driving SUV's, there was an outstanding off-road vehicle that was just perfect for treasure hunting. It was a 6-wheel amphibious vehicle called either Argo Conquest, Argo Avenger, or Argo Vanguard - definitely a winner! The Muscovites brought it in a trailer and were using it for thorough exploration of any large metal detecting location that included a few sites distant from one another.
This ETV (Extreme Terrain Vehicle) could easily cross any small and medium size creek, climb the hill, cross any ravine or gully, thus allowing a treasure hunter to save lots of time and effort in getting to remote spots. The number of manufacturers of the 6x6 (and 8x8) Amphibious All Terrain Vehicle (AATV) or Extreme Terrain Vehicle is growing, but Argo, Max, Hoot and XiBeiHu remain the leading companies.
6 x 6 Argo Conquest Can Easily Transport Six People!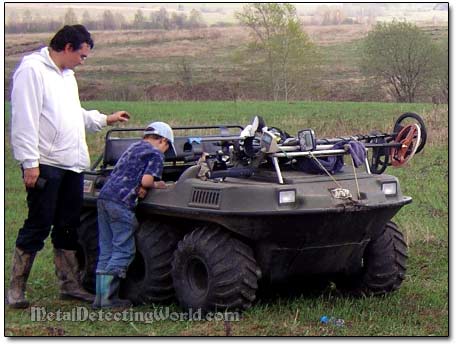 Surprisingly, the second place for successful off-road driving would go to a regular front-wheel car. This tiny Russian $3,000 "Oka" proved to be the best vehicle for treasure hunting adventures many times. Even though it is funny that the Russians call a ride in this car "riding on a bar stool," I was compelled to take this "toy" seriously by its performance.
During our outing, only this car was used for terrain and bad roads reconnaissance: Aleksei, Oka's pilot, would drive it ahead of our "caravan" in cases of searching for passable roads and shortcuts. Being not a 4x4, Oka never got stuck in those tough spots where Jeeps and SUV's could not get through!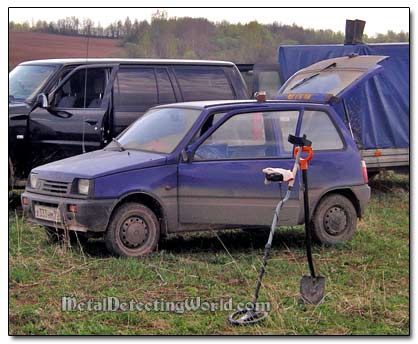 Oka's Pilot Aleksei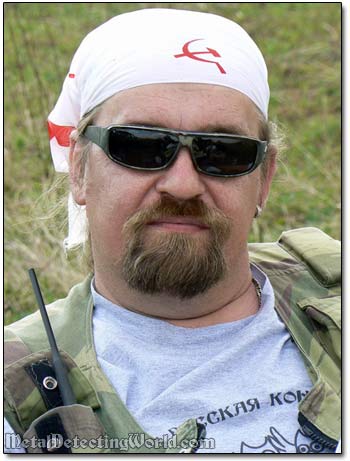 The Camp Was Getting Ready to Move On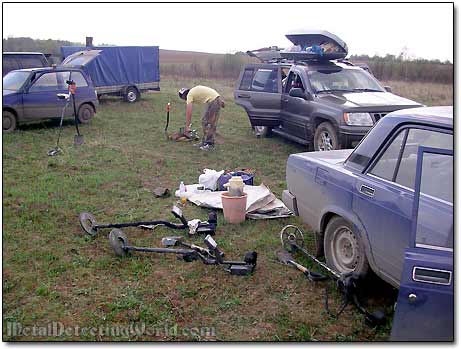 Number of pages: < Previous | 1 | 2 | 3 | 4 | 5 | 6 | 7 | 8 | 9 | 10 | 11 | 12 | 13 | 14 | 15 | 16 | 17 | 18 | 19 | 20 | 21 | 22 |

| 23 | 24 | 25 | 26 | 27 | 28 | 29 | 30 | 31 | 32 | 33 | 34 | 35 | 36 | 37 | 38 | 39 | 40 | 41 | 42 | 43 | 44 | 45 | Next >