Metal Detecting in Central Russia (Story 16)
As soon as we left Nerekhta, we got into thick fog that filled the lowland at the point of river crossing. The visibility was zero.
Driving Through "Milk"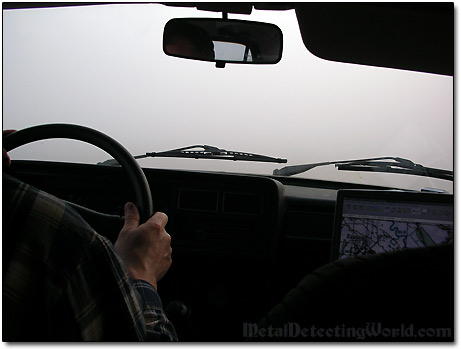 Suddenly a bus appeared right in front of us, Andrei slammed on brakes, and we came to a halt.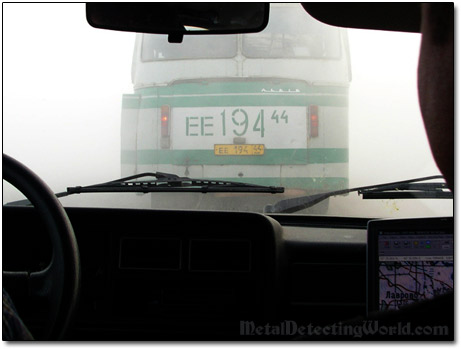 Tagging behind the slow moving bus was not fun so we turned off the road into the gas station lot. The gas station was supposed to be there according the road sign, but we did not see the usual set-up with a raw of pumps and a mart. Instead we saw two huge steel containers.
One container was modified into an office with a small window for taking payments. Another steel "box" contained a tank and a single pump with a dial. Last time I saw a gasoline pump like this one was back in 1993, on the reservation of the Indian tribe "Hopi" in New Mexico.
Relic Pump from 1970s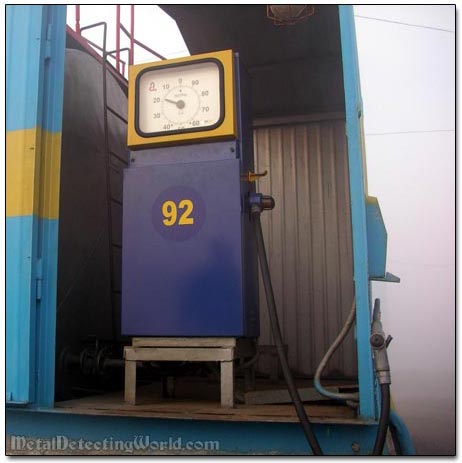 The whole experience with "crawling" through the fog and gassing up at the dated pump was so bizarre that I almost believed we somehow leaped from one loop of the Time Spiral onto another.
Andrei Seemed to Be Confused a Little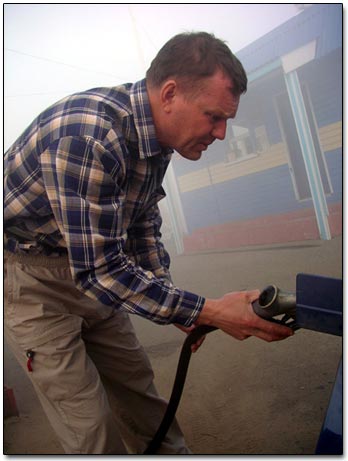 Number of pages: < Previous | 1 | 2 | 3 | 4 | 5 | 6 | 7 | 8 | 9 | 10 | 11 | 12 | 13 | 14 | 15 | 16 | 17 | 18 | 19 | 20 | 21 | 22 |

| 23 | 24 | 25 | 26 | 27 | 28 | 29 | 30 | 31 | 32 | 33 | 34 | 35 | 36 | 37 | 38 | 39 | 40 | 41 | 42 | 43 | 44 | 45 | Next >