Finding a Pectoral Icon in Ivanovo Region, Central Russia (Story 16)
This type of Russian relics deserves to be given a little historical background:
Because of the strong faith and the orthodox spirituality of the peoples in early Russia, an individual believer had a permanent desire for prayer. The prayers were always done in front of an image, a religious icon. Therefore it was not sufficient to have icons available only in churches or in private homes.
The icons had to be available for prayer on the go such as long and short trips, labor in the outdoors and in the service for which painted wooden icons were not suitable. It was necessary to create smaller, lighter icons, made of sturdy metal. That was how the Russian Orthodox brass-cast travel icon was born and was in existence throughout Russia well before 1000 AD.
Other Varieties of "Mother of God – The Joy of All Mournful People" Icon, circa 18th Century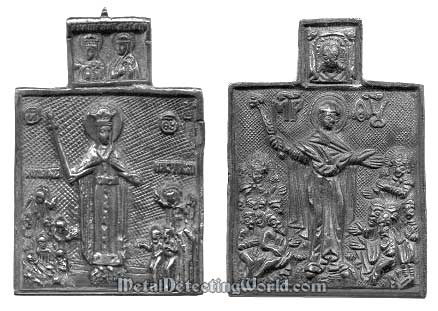 Sources for the various motives of metal icons during the Byzantine period were especially the Old and New Testament, the Apocrypha, as well as an enormous amount of legends dating back to early Christianity.
Mary, Mother of God, was especially honored in Russia and duplicated in over several hundred different ways, the theme "Mother of God – The Joy of All Mournful People" being the most popular. Also, among many others, St. Nicholas, St. George, and St. John the Evangelist took a special place among the motifs of Russian metal icons.
Bronze icon of the same theme with inclusion of various saints, circa 19th Century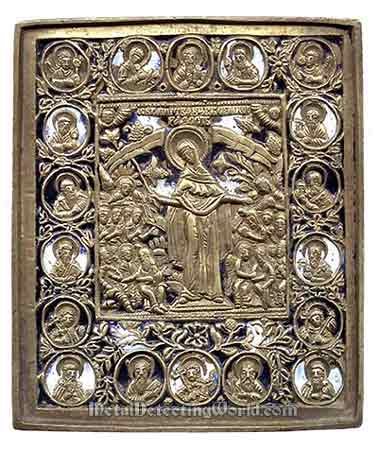 A tremendous variation in the shape of these icons was created. Besides the simple single-plate, the plates with wings (or leaves) which were divided in two parts (diptych), three parts (triptych) and four parts (tetraptych), hinged together and folded, were produced. While many brass-cast icons had straight edges, others were crowned with artistic add-ons, medallions, or copulas.
Triptych and Single-Plate Varieties, circa 18th Century
Number of pages: < Previous | 1 | 2 | 3 | 4 | 5 | 6 | 7 | 8 | 9 | 10 | 11 | 12 | 13 | 14 | 15 | 16 | 17 | 18 | 19 | 20 | 21 | 22 |

| 23 | 24 | 25 | 26 | 27 | 28 | 29 | 30 | 31 | 32 | 33 | 34 | 35 | 36 | 37 | 38 | 39 | 40 | 41 | 42 | 43 | 44 | 45 | Next >
source: History of Religion and Atheism of Komi Peoples by Gagarin U.V., Moscow, 1978