Metal Detecting in Ivanovo Region, Central Russia (Story 16)
Nowhere else in Russia I had seen so many churches, big and small, in the rural area. It was surprising because demolition of churches and cathedrals by communists took place all over Russia in the 1930s, and thousands of religious monuments disappeared from the earth's face forever.
An Abandoned Monastery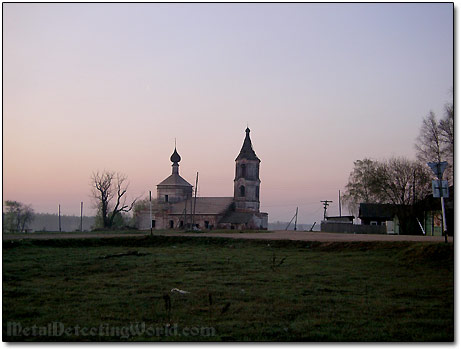 On the Way to the City of Yaroslavl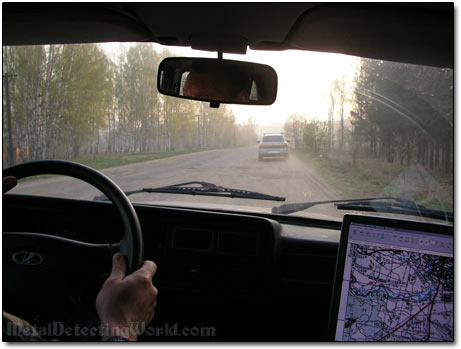 The Yaroslavl Region is located in non-fertilized zone of Russia and is part of the Federal Central District which is actually situated in the extreme west of Russia. The Yaroslavl region is also a part of "The Golden Ring" - a ring of cities northeast of Moscow, which played a significant role in the formation of the Russian Orthodox Church. These towns preserve the memory of the most important and significant events in Russian history.
These ancient towns have been called "open air museums" and feature unique monuments of Russian architecture of the 12th-18th centuries, including kremlins, monasteries, cathedrals, temples and churches. These towns are among the most picturesque in Russia and prominently feature Russia's famous onion domes. Cities included in the Golden Ring are Sergiyev Posad, Pereslavl-Zalesskiy, Rostov Velikiy, Yaroslavl, Kostroma, Ivanovo, Gus-Khrustalny, Suzdal, Vladimir, Rybinsk, Uglich and Alexandrov.
The Yaroslavl region borders on the Tver, Moscow, Ivanovo, Vladimir, Kostroma and Vologda Regions. The city of Yaroslavl is the largest transport center of the European part of Russia. Historically the region has been known for prosperous trade due to the exclusive place on the Volga River and for leather-making and textile production.
Approaching the City of Yaroslavl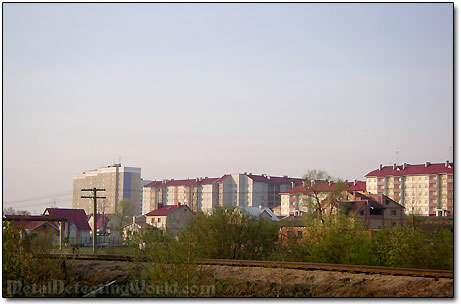 Number of pages: < Previous | 1 | 2 | 3 | 4 | 5 | 6 | 7 | 8 | 9 | 10 | 11 | 12 | 13 | 14 | 15 | 16 | 17 | 18 | 19 | 20 | 21 | 22 |

| 23 | 24 | 25 | 26 | 27 | 28 | 29 | 30 | 31 | 32 | 33 | 34 | 35 | 36 | 37 | 38 | 39 | 40 | 41 | 42 | 43 | 44 | 45 | Next >
source: Geographical, Historical and Socioeconomic Atlas of Russia, Moscow, 1989en.wikipedia.org