Metal Detecting in Ivanovo Region, Central Russia (Story 16)
BRIEF HISTORICAL FACTS on Yaroslavl:
The city of Yaroslavl is an administrative center of Yaroslavl Region (Oblast), located 250 km North-East of Moscow. The city is nearly one thousand years old, it was founded by Yaroslav the Wise, then Prince of Kiev, in 1010. He built the fortress on the right bank of the Volga River at its confluence with the Kotorosl River.
Even earlier there was a settlement on this spot called Bear Corner. According to the legend the Prince subdued the inhabitants by killing their sacred bear. This legend was incorporated in the city's coat of arms: a bear holding the fighting axe with its left paw on his left shoulder. The shield is surmounted with Yaroslavl prince's crown.
Yaroslavl Coat of Arms, circa 1730, and Flag of Yaroslavl Region (Oblast)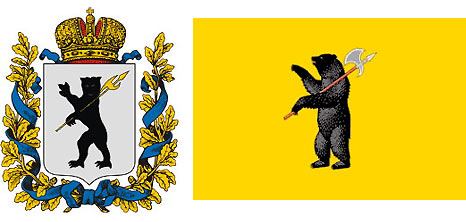 Approaching the Center of Yaroslavl City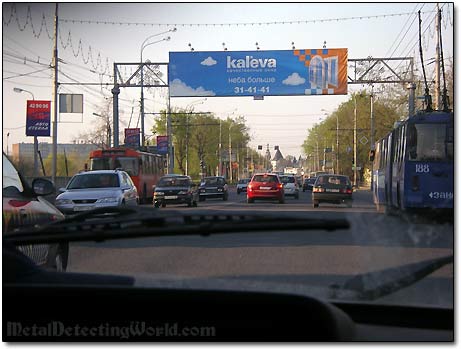 Yaroslavl has been a citadel of Russian statehood for about a thousand years. Russian Tsars, the Rurik and Romanov dynasties, and later Soviet government considered the city to be an important administrative unit. The city was founded as the first Orthodox city on the river Volga – its fortress was aimed at protecting north-eastern borders of Kievan Russia.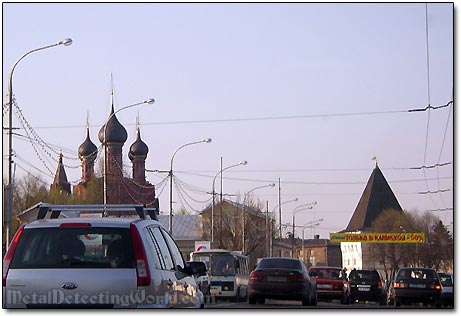 In 1218 the city became the capital of its own princedom and was known as a developed cultural center, however, its peaceful life was interrupted in 1238 by Tatar and Mongol invasion.
Number of pages: < Previous | 1 | 2 | 3 | 4 | 5 | 6 | 7 | 8 | 9 | 10 | 11 | 12 | 13 | 14 | 15 | 16 | 17 | 18 | 19 | 20 | 21 | 22 |

| 23 | 24 | 25 | 26 | 27 | 28 | 29 | 30 | 31 | 32 | 33 | 34 | 35 | 36 | 37 | 38 | 39 | 40 | 41 | 42 | 43 | 44 | 45 | Next >
source: Geographical, Historical and Socioeconomic Atlas of Russia, Moscow, 1989