Travel Through Ivanovo Region, Central Russia (Story 16)
Ivanovo is also the "city of the first Soviet." A soviet, a workers' local council, was organized here during the workers' strike in May 1905. The soviets as the basic organizing units of society were later adopted by the Bolsheviks (Communists).
City Skyline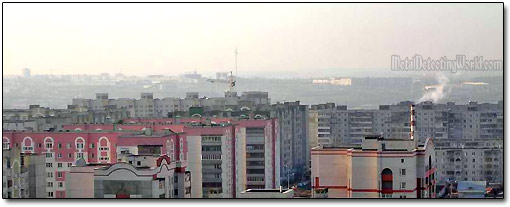 This is Ivanovo too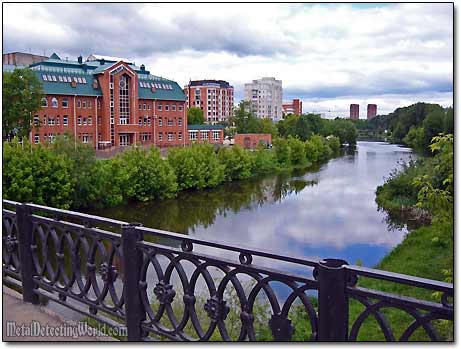 Ivanovo region is a textile land, where one can trace all the history of flax and cotton textiles from spinning-wheels, wooden looms and hand-printing to modern automated production. The city of Ivanovo has traditionally been called the textile capital of Russia.
This historical tradition is reflected on the city's coat of arms: in azure field, there is a woman dressed in silver chemise with golden collar and red sarafan with a golden top, wearing a golden head-dress (kokoshnik) over silver kerchief, and holding a silver yarn with her right hand while operating a spinning-wheels with her left hand.
The City of Ivanovo's Coat of Arms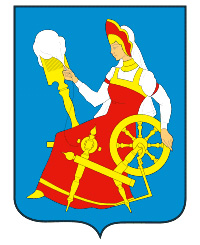 Here is a picture of one amazing piece of local folk-art of the mid-19th century - a wooden distaff carved out of a large tree branch and decorated with an intricate design.
Wooden Distaff with Inscription in Old Russian Language on the Back, circa 1843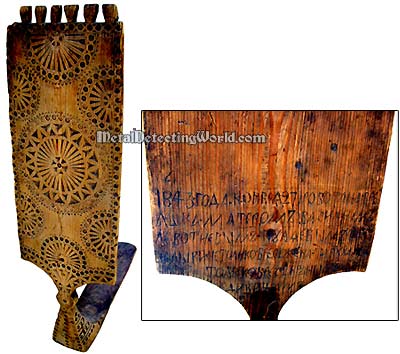 Despite its relatively small size Ivanovo region is in 4th place in Russia by quantity of historical sites after Moscow, Leningrad and Perm regions. The Ivanovo region also has many acting monasteries and temples that are good examples of old Russian temple architecture, Russian baroque, classicism, Russian-Byzantine, neo russian and modernist styles. In many temples there are well-preserved frescoes and icons dated back to the 15th century.
Church of Appearance of Christ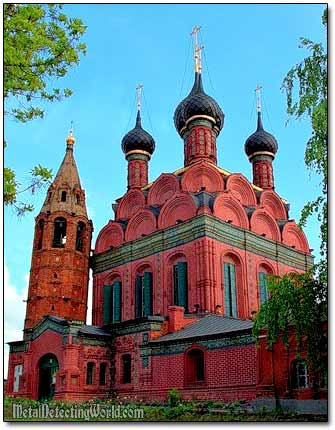 Church of Ilya The Prophet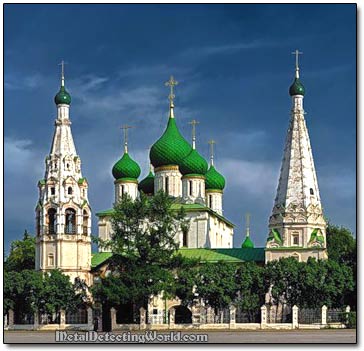 Ivanovo region is the land of old Russian fairy tales that are visually expressed in the form of miniature art paintings. There are two large centers of lacquer miniatures in the region: Palekh and Holoui. The world renowned Palekh miniatures - elegant caskets, snuff-boxes, brooches of papier-mache - are decorated with miniature paintings on a black lacquer background.
Palekh Lacquered Snuff-Box with a Miniature Painting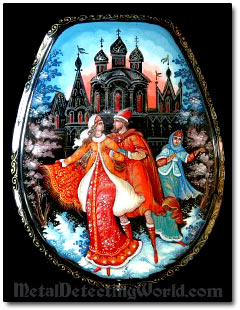 Number of pages: < Previous | 1 | 2 | 3 | 4 | 5 | 6 | 7 | 8 | 9 | 10 | 11 | 12 | 13 | 14 | 15 | 16 | 17 | 18 | 19 | 20 | 21 | 22 |

| 23 | 24 | 25 | 26 | 27 | 28 | 29 | 30 | 31 | 32 | 33 | 34 | 35 | 36 | 37 | 38 | 39 | 40 | 41 | 42 | 43 | 44 | 45 | Next >
source: Geographical, Historical and Socioeconomic Atlas of Russia, Moscow, 1989, ivanovskayaobl.ru/ivanovo/