Metal Detecting in "Large-Cent Land" Again (Story 6), page 11
Revisiting Taconic Mountains in Upstate New York for More Relic Hunting & Coin Shooting
My buddy Alexander was thrilled as he held the oldest coin he had ever seen "in person" for the first time!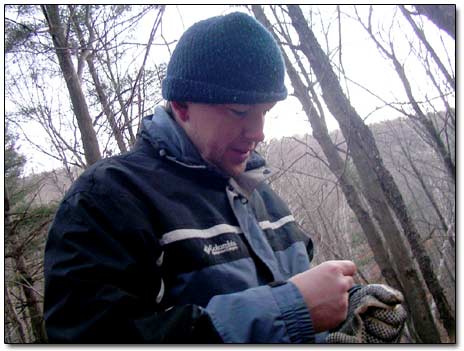 He asked me to let him try metal detecting with Tesoro Cortes, and I gladly switched detectors with him. Now it was a night hunt with head lamps and freezing our faces off.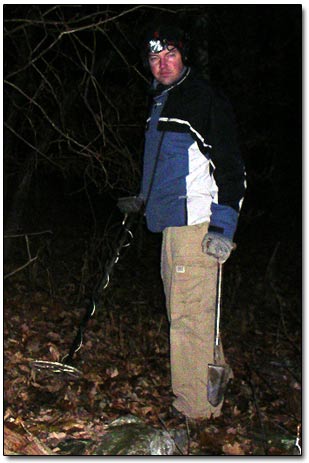 Well, it did not last long. I just dug up more junk.
My Junk Collection of the Day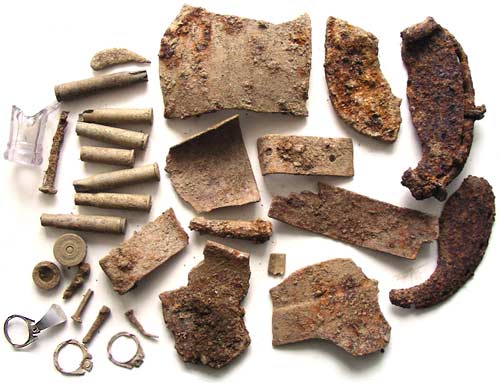 Overall, I was pleased with the performance of my Tesoro Cortes. This simple metal detector proved one more time its capability for recovering valuable finds missed by others at the frequently visited site.
My buddy was happy about getting a little taste of adventurous relic hunting and coin shooting. I am sure he learnt a lot and gained some valuable first-hand experience from this outing. I wished we had more time to explore the Land of Large Cents and... King George coppers!
My Modest Finds of the Day: Bat-Wing Buckle, King George III Copper, etc.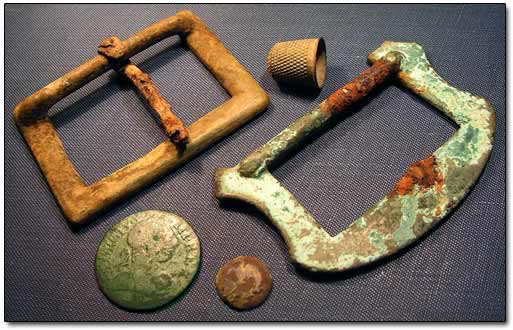 That was it for the metal detecting season. It was certainly nice to end it with an old coin find (very old for Upstate New York!) and enjoy the delicious scent of freshly dug soil for the last time this year.
Next season, I would have new exciting treasure hunting projects and adventures overseas but I already knew how much I would miss metal detecting in the "Large Cents Land" in Upstate New York. No doubt, this area has a great potential which will be harvested by the upcoming treasure hunters with the most advanced metal detectors that will soon be available on the market.
Happy Hunting to All!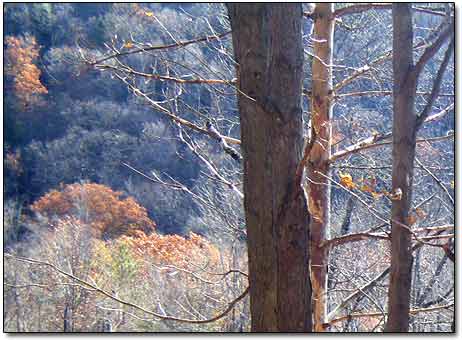 If you would like to recommend this story to everyone, please click the button:
Number of pages: < Previous | 1 | 2 | 3 | 4 | 5 | 6 | 7 | 8 | 9 | 10 | 11 |
Detecting in USA Directory page | All My Stories Directory | MetalDetectingWorld Home