4-Level Search Program for Detecting Hammies with E-Trac & CTX 3030, page 15
7. Level 4 - "Expert" FTF (Four Tone Ferrous): Discrimination & QuickMask Patterns
(...CONTINUED from Previous Page)
E-Trac & CTX 3030 Discrimination Pattern
NOTE: The Smartfind window on the E-Trac Pattern Screens shown below is identical to the Smartfind 2 window on the CTX-3030 Detect Screen which has the same FE-CO coordinates system.
The Level-4 Discrimination patterns should be used in conjunction with Level-4 program settings at the metal detecting site of a former settlement or single homestead that you have searched to the last non-ferrous signal with program settings of Levels 1, 2 and 3.
The following Discrimination pattern allows for detecting hammered coins and low-conductive artifacts lying within most of the E-Trac's or CTX 3030's detecting range, and allows to hear the "broken" signals of desirable targets slightly masked by iron nails. The small- and medium-sized high-conductive coins and non-ferrous trash are specifically rejected.
Minelab E-Trac Discrimination Pattern for "Small Hammered Coins" Search Program Level 4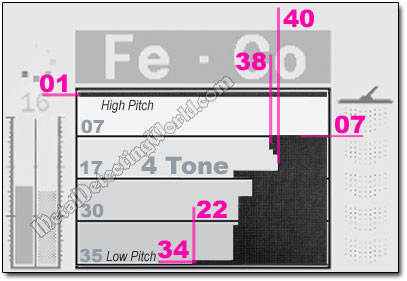 This Discrimination pattern mutes the detector's responses to all types of nails and low-sized iron objects. However, the E-Trac will respond to medium- and large-sized iron targets with a coin-like high tone pitch. The FE properties of such targets can be easily confirmed in the QuickMask mode. Close attention should be paid to target signals of the medium-low and medium-high tone pitches. These two tone pitches correspond to the hammered coins that may lie either away from any iron target or in close proximity to it or even slightly masked by it.
Every time you receive the medium-low tone signal, look at the Smartfind window to observe where a target crosshair is positioned. If it is in the area between the FE-17 and FE-28 lines, it may be a valuable coin! The rejected FE-01 line eliminates responses to iron falsing and some hot rocks. If the iron falsing caused by the "wrap around effect" is manifested and persistent on the CO-01 and CO-50 lines, they may be fully blackened.
The CTX-3030's Discrimination pattern for the Level-4 program settings is identical to the E-Trac's but can be assigned a different Tone ID Map. Since the CTX 3030 is a "visual" metal detector, and frequent eyeballing of its screen is required, the '4-tone FE' Tone ID Map can be replaced with the '2-tone FE' (TTF). In this case, keep a low-tone for iron and high tone for all non-ferrous targets.
E-Trac's QuickMask Pattern (CTX 3030's 2nd Pattern)
The E-Trac's QuickMask pattern for Level-4 program settings has a blackened (rejecting) area between the FE-07 and FE-17 lines. Rejecting most of non-ferrous high-conductive trash, this area limits acceptance of most coins to only thin-sectioned hammered and milled billon coins. And the FE-01 line is entirely blackened to mute the detector's responses to some hot rocks and iron falsing caused by the "wrap around effect".
E-Trac's QuickMask Pattern for Level-4 Search Program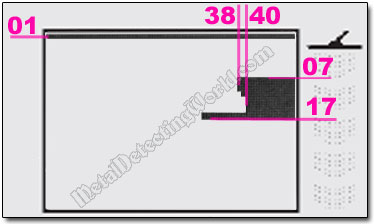 This E-Trac's QuickMask pattern can be effectively used as the Second Discrimination pattern for the CTX 3030's Level-4 program settings. The CTX 3030's Tone ID Profile for this Discrimination pattern can be modified for specific ranges of conductivity in another User Mode (make sure it has the Level-4 program settings). You can set up either '2-tone FE' or 'COMBINED' ID Profile and resize tone bins any way you want, and assign any tone pitch to each bin. For example, in "2-tone FE ", you can assign a low-tone for all the low conductive hammered coins, and a medium tone for any high-conductive non-ferrous targets, such as large silver or copper coins and large bronze artifacts.
You can do it either on the CTX's Control Panel or in the XChange 2 application on your PC or laptop (for more details, please refer to my Tutorial - "How To Use Minelab XChange 2 for EDITING").
To create my Discrimination Patterns, I used the Manual Edit Mode (page 46 of the E-Trac Instruction Manual, page of the CTX-3030 Instruction Manual).
CONCLUSION
Just like before, when you stop getting responses from any non-ferrous targets, you should reduce Discrimination even more to get more desirable targets out of the site. If you finally stop getting any signals except the detector's responses to iron nails and trash, you may want to make the Smartfind (Smartfind 2) window "open" - all white, and metal detect in All Metal mode; however, a cacophony of signals will most likely drive you crazy.
As a last resort, you may switch to the E-Trac's "2 Tone in Ferrous" audio mode ("2-tone FE" on the CTX 3030) and try to search the hunt site for hammies again. If your metal detector fails to locate any consistent non-ferrous or "coin+nail" questionable signals, it would mean only one thing - the detector has reached its LIMIT. "And what we do now?" Upgrade to a more capable machine! I did that and now I continue finding coins at the "searched-out" hunt sites.
Happy hunting!
If you would like to recommend this section on E-Trac and CTX-3030 search programs to everyone, please click the button:
Number of pages: < Previous | 1 | 2 | 3 | 4 | 5 | 6 | 7 | 8 | 9 | 10 | 11 | 12 | 13 | 14 | 15 |
E-Trac & CTX-3030 Programs - Index page | Minelab E-Trac Field-Test | Metal Detector Reviews Worldwide | Useful Articles page

Home